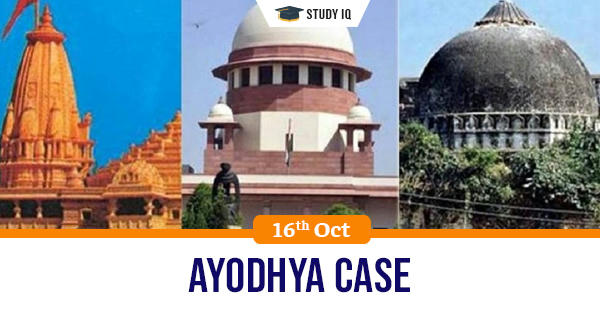 Ayodhya case
Date: 16 October 2019
Tags: Judiciary & Judgments
Issue
The Ayodhya appeals hearing in the Supreme Court is likely to end on October 16, two days before the deadline.
Background
Fourteen appeals were filed in the apex court against the 2010 Allahabad High Court judgment, delivered in four civil suits, that the 2.77-acre land in Ayodhya be partitioned equally among the three parties , the Sunni Waqf Board, the Nirmohi Akhara and Ram Lalla.
Details
The Ayodhya dispute is a political, historical and socio-religious debate in India, centred on a plot of land in the city of Ayodhya in Uttar Pradesh.

The issues revolve around access to a site traditionally regarded among Hindus to be the birthplace of the Hindu deity Rama, the history and location of the Babri Masjid at the site, and whether a previous Hindu temple was demolished or modified to create the mosque.

The issue gained political significance in 80's with many right-wing parties and groups coming together to demand a temple in the disputed area.

On December 6, 1992 during a rally under Ramjanmabhoomi movement, provocative speeches by various leaders resulted in demolition of Babri Masjid by a mob of activists.

Librahan Commission (Librahan Ayodhya Commission for Inquiry) was set up to investigate the destruction of the disputed structure of Babri Masjid under retired High Court Judge M. S. Liberhan by an order of the Indian Home Union Ministry.

The High Court also passed an order to the Archaeological Survey of India to find out if there would be evidence of temple beneath the Mosque.

The Archaeological Survey of India started excavation to find out the evidence of temple beneath the Babri-Masjid disputed land and submitted its report that there is evidence of temple on the basis of stone columns and pillars that might be representation of Hindu, Buddhist or Jaina elements.

Lucknow bench of Allahabad High Court reserved its order and suggested all the parties to resolve issue through friendly discussion but unfortunately no one was interested.

The Supreme Court appoints Redt. Justice Kalifullah, Senior advocate Sriram Panchu and Spiritual guru Sri Sri Ravishankar to act as mediators between the parties of Ayodhya dispute. But there was no success.