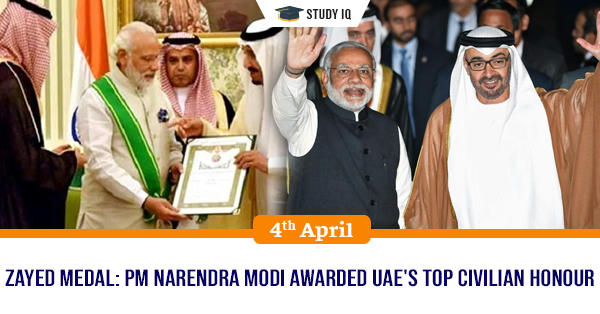 Zayed Medal: PM Narendra Modi awarded UAE's top civilian honour
Date: 04 April 2019
Tags: Honours & Awards
Prime Minister Narendra Modi has been awarded Zayed Medal (Order of Zayed), highest civilian honour of United Arab Emirates (UAE). He received this honour in appreciation of PM Narendra Modi's role in consolidating long-standing friendship and joint strategic cooperation between India and UAE. He has played pivotal role in enhancing bilateral ties between both countries to level of comprehensive strategic relations.
Zayed Medal (Order of Zayed)
It is highest decoration awarded by UAE to kings, presidents and heads of states. It consists of collar cantered by medallion bearing name 'Zayed', the founding father of UAE.
In the past, it has been given to leaders of several countries, including Chinese President Xi Jinping, Russian President Vladimir Putin and Queen of United Kingdom Elizabeth II, former President of Pakistan General Pervez Musharraf.
India-UAE during tenure of PM Modi
India and UAE share warm relations and it has received impetus after Prime Minister Modi to the gulf nation in 2015. It was further strengthen after Crown Prince visited India in 2017 as Chief Guest for Republic Day celebrations in New Delhi on request of PM Modi. UAE is one of few countries PM Modi has visited twice first in 2015 and later in February 2018.

Bilateral trade between both countries stood at about US $50 billion in 2017, making India second largest trading partner of UAE. While, UAE is India's third largest trading partner (after China and US). Moreover, UAE is India's second largest export destination, accounting for over US $31 billion for the year 2016-17.

Commercial relations between both countries are anchored by energy cooperation, trade, investments by UAE in India and investments & businesses driven by Indian expatriates in UAE.

UAE accounts for 8% of India's total oil imports and is fifth largest supplier of crude oil to India. It is also part of International Solar Alliance (ISA), which is headquartered in Gurugram, India.
Other awards received by PM Modi
King Abdulaziz Sash:

Saudi Arabia's highesh civilian award in 2016 for his role in strengthening cooperation between the two countries.

Seoul Peace Prize for 2018:

It was awarded for his contribution to international cooperation and fostering global economic growth.