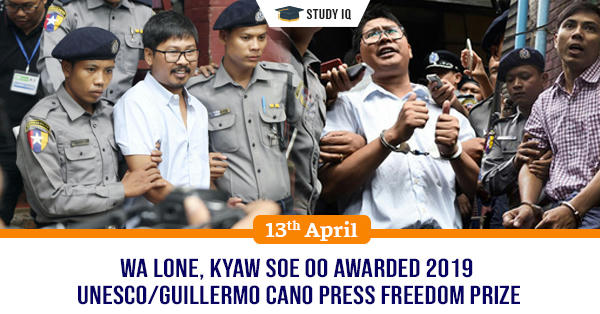 Wa Lone, Kyaw Soe Oo awarded 2019 UNESCO/Guillermo Cano Press Freedom Prize
Date: 13 April 2019
Tags: Honours & Awards
Two Reuters reporters Wa Lone and Kyaw Soe Oo were awarded 2019 UNESCO/Guillermo Cano Press Freedom Prize. They are jailed in Myanmar over their reporting on killings of Rohingya Muslims and human rights violations in the country. They will be awarded on May 2, 2018 at ceremony to be held in Ethiopia on the eve of World Press Freedom Day.
They were arrested in December 2017 and sentenced seven years jail term for possessing classified information regarding security operations in Rakhine, from where an estimated 740,000 Rohingya fled during an army-led crackdown, which UN has described as "ethnic cleansing". At the time of their arrest, they were probing extrajudicial killing of 10 Rohingya men at Inn Din village in northern Rakhine state.
UNESCO/Guillermo Cano World Press Freedom Prize
It was established in 1997 by UNESCO's Executive Board in honour of Colombian journalist Guillermo Cano Isaza.

It honours person, organization or institution for their outstanding contribution to promotion and defence of freedom of press anywhere in the world, especially achieved in the face of danger.

It carries cash prize (monetary award) of $25000. It is funded by Finland based Helsingin Sanomat Foundation and Colombia based Cano Foundation.

Guillermo Cano Isaza was Colombian journalist who was assassinated on 17 December 1986 in front of the offices of his newspaper, El Espectador in Bogota.