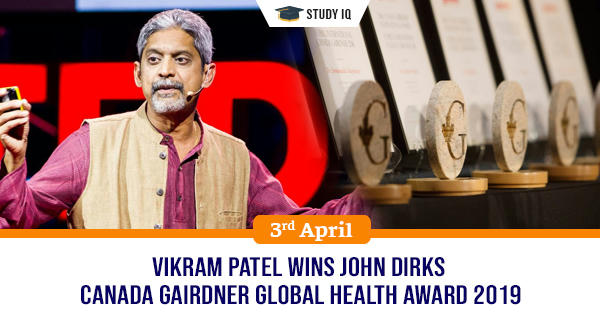 Vikram Patel wins John Dirks Canada Gairdner Global Health Award 2019
Date: 03 April 2019
Tags: Honours & Awards
Indian psychiatrist and professor Dr. Vikram Patel was awarded prestigious John Dirks Canada Gairdner Global Health Award 2019 for his world leading global research on raising global profile of mental health problems.
Vikram Patel
He is psychiatrist and professor of global health at Harvard Medical School. He is best known for his work on mental disability and child development in low-resource settings.

He has done leading research generating knowledge on burden and determinants of mental health problems in low and middle-income countries.

He has pioneered approaches that use community resources for prevention and treatment of mental health problems in India with global impact.

Much of his work has been done in partnership with Sangath, an Indian NGO co-founded by him in 1996. It is dedicated to research in areas of child development, adolescent health, and mental health
John Dirks Canada Gairdner Global Health Award
It is awarded annually to world's top scientists who have made outstanding achievements in Global Health Research.

It was established in 2009. It is one of the world's most prestigious awards recognizing excellence in global health and biomedical research.

It also recongises contribution to health in the developing world. Its laureates receive $100,000 cash honorarium.