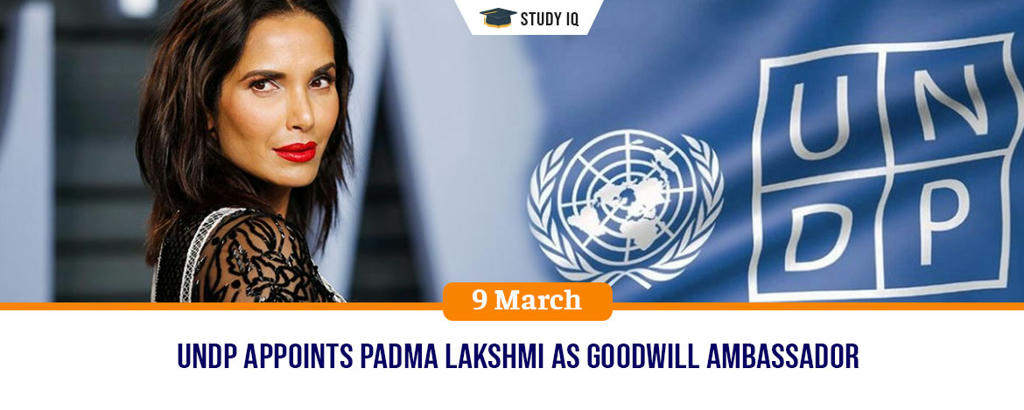 UNDP appoints Padma Lakshmi as Goodwill Ambassador
Date: 09 March 2019
Tags: Honours & Awards
United Nations Development Programme (UNDP) has appointed Indian-American television personality and food expert Padma Lakshmi as its newest Goodwill Ambassador. Her appointment was annocued on the ocassion of International Women's Day.
In her new role, she will support UNDP's fight against inequality and discrimination around world. She will mobilise support for Sustainable Development Goals with focus on fighting inequality and discrimination.
Padma Lakshmi
She is Indian-American author, actress, model, television host, and executive producer.

She had started her career with modeling at age of 21. She has also been host of Emmy award-winning cooking competition program, Top Chef.

She also received Emmy nomination in 2009 for same in the category of Outstanding Reality Host.

Her first cookbook Easy Exotic which is compilation of international recipes and short essays, was awarded Best First Book at 1999 Gourmand World Cookbook Awards.

She is also a New York Times bestselling author. Her debut memoir 'Love, Loss and What We Ate' was released in 2016 on International Women's Day.

She is also co-founder of Endometriosis Foundation of America, visiting scholar at Massachusetts Institute of Technology (MIT) and ambassador for American Civil Liberties Union advocating for immigrants' rights.
United Nations Development Programme (UNDP)
It is specialised agency of United Nation formed in 1965 to triggered global development network. It is headquartered in New York City, US.

It works in nearly 170 countries and territories and helps to achieve the eradication of poverty, and the reduction of inequalities and exclusion.

It also helps countries to develop policies, leadership skills, partnering abilities, institutional capabilities and build resilience to sustain development results.

Focus areas of UNDP:

Sustainable Development, Democratic Governance and peace building and Climate and disaster resilience.