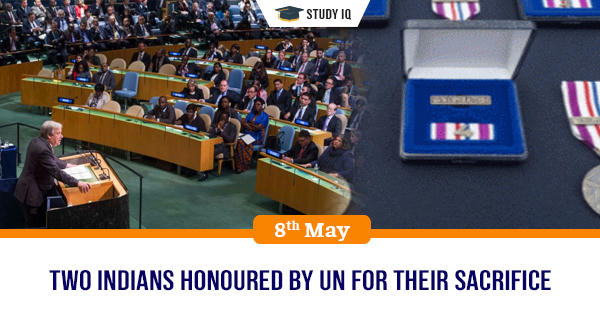 Two Indians honoured by UN for their sacrifice
Date: 08 May 2019
Tags: Honours & Awards
Two Indians were among 115 United Nations (UN) personnel, staff who were honoured for their sacrifice in line of duty between January 2018 and March 2019. Two Indians are Police Officer Jitender Kumar and Consultant Shikha Garg. Of these 115 UN personnel and staff members, 103 were African peacekeepers.
Key Facts
Jitender Kumar:

He was Police Officer serving in UN Organisation Stabilisation Mission in the Democratic Republic of the Congo (MONUSCO).

MONUSCO is UN peacekeeping force deployed in DRC which was established by the UN Security Council in resolutions 1279 (1999) and 1291 (2000) to monitor the peace process of the Second Congo War.

Shikha Garg:

She was United Nations Development Programme (UNDP) consultant attached with Union Ministry of Environment, Forest and Climate Change (MoEFCC). She was among four Indians who died when Nairobi-bound Ethiopian Airlines plane crashed after taking off from Addis Ababa in March 2019. She was on her way to attend a United Nations Environment Programme (UNEP) meeting in Nairobi.