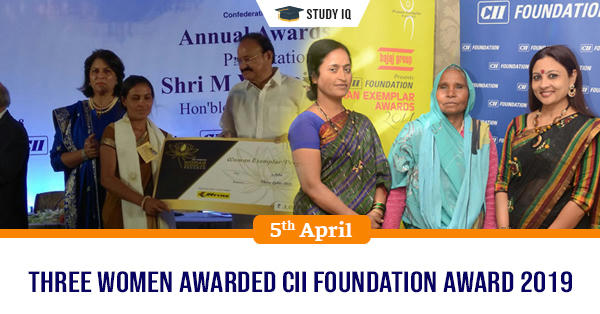 Three women awarded CII foundation award 2019
Date: 05 April 2019
Tags: Honours & Awards
Three women leaders Bhimavva Chalwadi (education sector), Vanlalruati (health sector) and Nilima Tigga (microentrepreneurship) were awarded Confederation of Indian Industry (CII) Foundation Women Exemplar Award 2019. They all from marginalized community and were awarded for their contribution in transforming the excluded and disadvantaged.
Bhimavva Chalwadi (Goa): She is daughter of rag picker and had became Devadasi at the age of 15. She has counselled and prevented 2,500 girls from joining Devadasi practice. She has provided rehabilitation support to 1,400 women rescued from sex work. She leads Swift Wash Laundry, a unique social enterprise that has opened up jobs with dignity for 280 women who were once engaged with sex work.
Vanlalruati (Mizoram): She was one of the first Mizo woman to publicly declare her HIV positive status. She had founded Mizoram Positive Women's Network (MPWN) and has directly impacted 20,000 persons living with HIV in state. She work has pushed for large-scale policy shifts, leading to integration of persons with HIV in general healthcare system.
Nilima Tigga (Jharkhand): She has set up Shankhdhara Mahila Vikash Mandal (SMVM), a federation of 1,030 SHGs in Lohardaga, Jharkhand, one of most backward districts of India. Under her leadership, SMVM has created significant income increase for 15,000 women and their families through SHGs and 700 women through micro-entrepreneurship.
CII foundation women exemplar award
It is part of the CII Foundation Woman Exemplar Program (WEP). It was launched in 2005 by CII Foundation (CIIF). It carries cash reward of Rs 3,00,000.
It focuses on promoting women's empowerment at community level by discovering and recognizing those who chose to look beyond their limitations and contributed significantly to positively impact the community.
It aims at celebrating Women Exemplar Collective with industry leaders, and to spur dynamic learning and exchange among the women change makers.