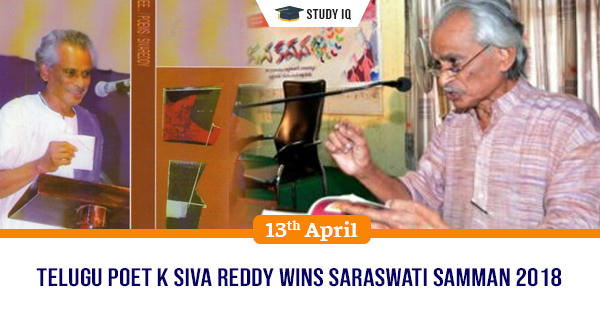 Telugu poet K Siva Reddy wins Saraswati Samman 2018
Date: 13 April 2019
Tags: Honours & Awards
Renowned Telugu poet K Siva Reddy has won prestigious Saraswati Samman 2018 for his collection of poems titled Pakkaki Ottigilite (Turning Aside While Lying Down). Pakkaki Ottigilite published in 2016 is anthology of 104 poems in blank verse. It captures responses of poet over the years to social change, the evolution of his own self and his dynamic relationship with the world.
K Siva Reddy
He was born in 1943 in farmer's family in Guntur district of Andhra Pradesh. He is counted among most renowned modern poets in Telugu.

He produced 23 volumes of poetry. He has also published critical essays on poetry. He has also taught English literature.
Saraswati Samman
It is annual literary award bestowed upon Indian citizen for his outstanding literary work written in any 22 official Indian language mentioned in Schedule VIII of Constitution and published during last 10 years.

It has been instituted by KK Birla Foundation in 1991 and named after Indian goddess of learning Saraswati. It is considered one of the highest recognition in the field of Indian literature,

It carries cash (monetary) prize of Rs. 15 lakh rupees, citation and plaque of goddess Saraswati. Harivansh Rai Bachchan was its first recipient and was awarded for his autobiography published in four volumes.

Some of its other recipients includes writers Vijay Tendulkar, Shamsur Rahman Faruqi and Dr Indira Parthasarathy Ramanujar, among many others.

Note:

It is one of the three awards instituted by KK Birla Foundation in the field of literature. These are Vyas Samman (for Hindi) and Bihari Puraskar (for Hindi and Rajasthani writers of Rajasthan).