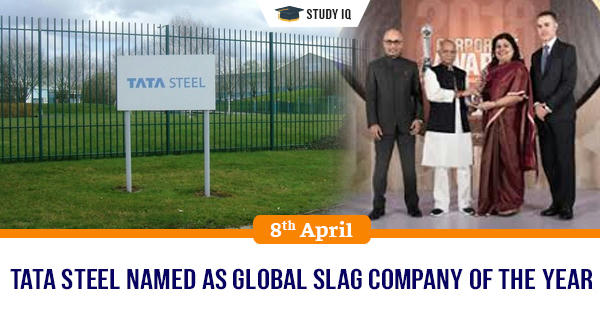 Tata Steel named as Global Slag Company of the Year
Date: 08 April 2019
Tags: Honours & Awards
Tata Steel has been named as 'Global Slag Company of the Year' at 14th Global Slag Conference and Exhibition 2019. The award was presented to Tata Steel for its innovative practices in development of new applications for Steel by-products (Slag). It also demonstrates global recognition of Tata Steels commitment towards sustainability and circular economy principles.
14th Global Slag Conference
It was held recently in Aachen, Germany. It was one of the largest global annual slag event. It was attended by major steelmakers, steel mill service providers & associated companies.
Tata Steel
It is Indian multinational steel-making company and subsidiary of Tata Group. It has manufacturing operations in 26 countries.

It is headquartered in Mumbai, Maharashtra. It is one of the top steel producing companies globally and second largest steel company in India after SAIL.

It was established in 1907 as Tata Iron and Steel Company (TISCO) was by Jamsetji Tata.

Its largest plant is located in Jamshedpur, Jharkhand. It had acquired the UK-based steel maker Corus in 2007.