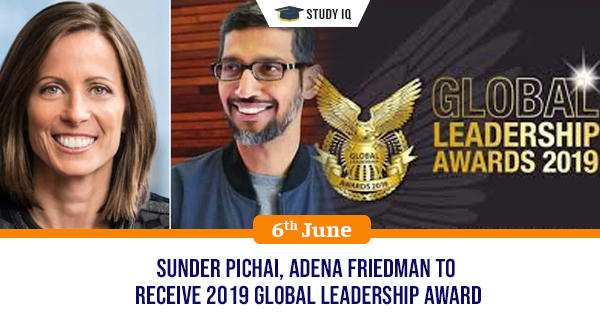 Sunder Pichai, Adena Friedman to receive 2019 Global Leadership Award
Date: 06 June 2019
Tags: Honours & Awards
Google's India-born CEO Sundar Pichai (46) and NASDAQ President Adena Friedman (50) were chosen for the prestigious Global Leadership Awards 2019. They were selected by business advocacy group US-India Business Council (USIBC) in recognition of the two companies' contribution as the leading technology-driven platforms.
About Global Leadership Award
It was instituted by Washington-based US-India Business Council (USIBC) in 2007.It is bestowed upon top corporate executives from the US and India whose companies play a pivotal role in fostering and in catalysing growth in the US-India commercial corridor. It is given for achievements in over 30 categories to leaders who took extra efforts in nation building while nurturing the global economy to grow.
About US-India Business Council
It is premier business advocacy organization dedicated to strengthening economic and commercial relationship between US and India.

It serves as direct link between business and Government leaders, resulting in increased trade and investment to strengthen bilateral ties between the two countries.

It was founded in 1975 and is headquartered in Washington, DC, United States. Nisha Desai Biswal is current Chairman of USIBC

Mandate:

(i) Serve direct link between business and government leaders. (ii) Create inclusive bilateral trade environment between India and US by serving as voice of industry, linking governments to businesses. (iii) Support long-term commercial partnerships that will nurture spirit of entrepreneurship, create jobs, and successfully contribute to global economy.