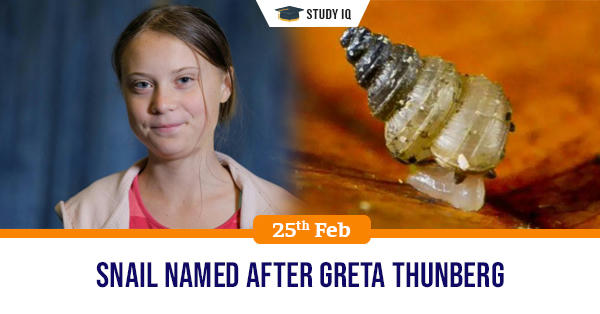 Snail named after Greta Thunberg
Date: 25 February 2020
Tags: Honours & Awards
Issue
A group of citizen scientists working together with scientists from Taxon Expeditions has identified a new species of land snail and named it Craspedotropis gretathunbergae, in honour of Swedish climate activist Greta Thunberg.
Background
Naming this snail after Greta Thunberg is a way of acknowledging that her generation will be responsible for fixing problems that they did not create.
Details
The new species comes from tropical rainforests and is sensitive to drought and extreme temperatures, which are likely to be more frequent as climate change continues.

The snails were found during a field course conducted by Taxon Expeditions at Kuala Belalong Field Studies Centre in Brunei. When they were found, the snails were at the foot of a steep hillslope, next to a riverbank while they were foraging at night.

The two-millimetre-long snails have dark grey tentacles, a pale body and a concave shell, whose outer part is greenish-brown.

The study work including, fieldwork, morphological study, and classification of identified specimen was carried out in a field centre with basic equipment and no internet access.

In 2018, a Taxon Expedition team had named a new species of beetle after the actor Leonardo DiCaprio, who is also a climate activist.
Greta Thunberg
Greta Thunberg is a Swedish environmental activist on climate change whose campaigning has gained international recognition.

Thunberg's activism started after convincing her parents to adopt several lifestyle choices to reduce their own carbon footprint.

In August 2018, at age 15, she started spending her school days outside the Swedish parliament to call for stronger action on climate change by holding up a sign reading Skolstrejk för klimatet (School strike for the climate).

Her sudden rise to world fame has made her both a leader and a target for critics. Her influence on the world stage has been described as the "Greta effect".

She has received numerous honours and awards including: honorary Fellowship of the Royal Scottish Geographical Society,Time magazine's 100 most influential people and the youngest Time Person of the Year, inclusion in the Forbes list of The World's 100 Most Powerful Women (2019) and two consecutive nominations for the Nobel Peace Prize (2019 and 2020).