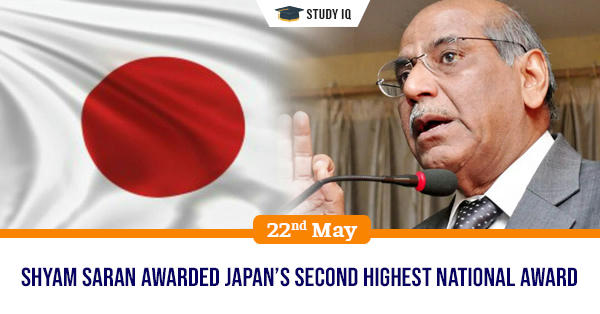 Shyam Saran awarded Japan's second highest national award
Date: 22 May 2019
Tags: Honours & Awards
Former foreign secretary Shyam Saran (72) will be conferred with Japan's second highest national award- The Order of the Rising Sun, Gold and Silver Star. He will be awarded in 2019 Spring Imperial Decorations for his contributions to strengthen strategic ties and enhancing mutual understanding between India and Japan.
Key Facts
Saran was India's Foreign Secretary from 2004 to 2006. He had played important role to elevate Japan-India relationship to strategic partnership. During his tenure, the then Japanese Prime Minister Junichiro Koizumi had visited India for the first time in 5 years. His contributions in strengthening mutual understanding between Japan and India includes "India Festival", which was held in Japan in 1988, when he was Deputy Chief of Mission of Embassy of India in Japan. Since 2017, e has been enhancing mutual understanding between two countries, such as by hosting an "India-Japan Colloquium./
The Order of the Rising Sun
It is a Japanese government honour established in 1875 by Emperor Meiji. It was the first national decoration awarded by Japanese government. It is awarded to those who have made distinguished achievements in international relations, promotion of Japanese culture, advancements in their field, development in welfare or preservation of the environment. It consists of badge featuring rays of sunlight from rising sun. Its design symbolizes energy as powerful as rising sun in parallel with "rising sun" concept of Japan (Land of the Rising Sun).