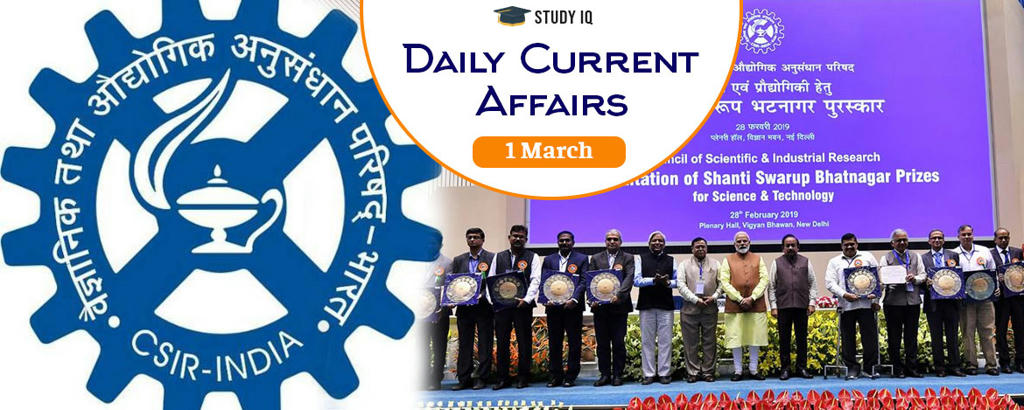 PM confers Shanti Swarup Bhatnagar Prizes
Date: 01 March 2019
Tags: Honours & Awards
Prime Minister Narendra Modi conferred Shanti Swarup Bhatnagar Prizes for years 2016, 2017 and 2018 in New Delhi on the occasion of National Science Day (observed on 28 February).
Total of 34 winners were awarded for these three in seven different disciplines of award. Scientists from several Indian Institutes of Technology (IITs) combined won eight awards followed by Indian Institute of Science, Bengaluru (IISc), which won seven prizes.
Only one woman scientists Aditi Sen was among these awardees. She was awarded in physics category for her work in quantum information and communication, including the formulation of a computable entanglement measure and a novel density-matrix recursion method.
Shanti Swarup Bhatnagar Prize
It is most coveted national recognition and multidisciplinary award in field of S&T awarded each year by Council of Scientific and Industrial Research (CSIR) on National Science Day.

It was instituted in 1957 in the memory of late Dr Shanti Swarup Bhatnagar, the founder director of the CSIR.

It bestowed upon young scientists and engineers (up to the age of 45 years) who are citizen of India to honour their research and developmental work in India during the five years.

It is awarded for research in seven disciplines viz. Biological Sciences, Chemical Sciences, Medical Sciences, Physical Sciences, Mathematical Sciences, Engineering Sciences and Earth, Atmosphere, Ocean and Planetary Science.

It comprises of citation, cash award of Rs. 5 Lakh and plaque. Some of India's top scientists, like C N R Rao and M S Swaminathan have been recipients of this award in the past.