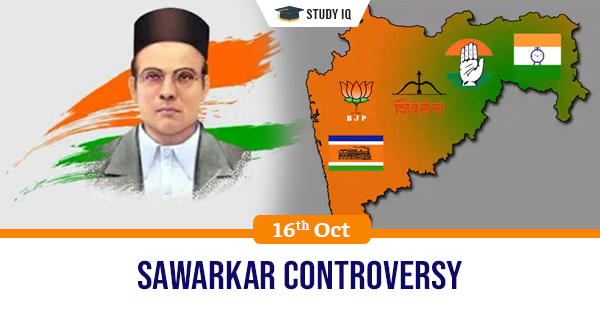 Sawarkar controversy
Date: 16 October 2019
Tags: Honours & Awards
Issue
The BJP's manifesto for the forthcoming Maharashtra Assembly polls promises to consider conferring the Bharat Ratna on Vinayak Damodar Savarkar, famously known as Veer Sawarkar.
Background
There has been considerable voices from strict followers of BJP and Shiv Sena to recognise contributions of other leaders towards freedom struggles, including Sawarkar's. The demand for Bharat Ratna,expressed by the leadership is a step towards this.
Details
Sawarkar's history
Vinayak Damodar Savarkar was an Indian independence activist, politician, lawyer, writer and the formulator of the Hindutva philosophy.

He popularized the term Hindutva (Hinduness), to create a collective "Hindu" identity as an essence of Bharat.

He advocated for validating religious myths/blind faith against the test of modern science. In that sense he also was a rationalist and reformer.

Sawarkar was charged on abeitment to murder of Nashik Collector Jackson and sentenced to 50 years imprisonment in Cellular jail located in Andaman and Nicobar islands, a punishment known as 'Kaala Pani'.
Contributions
Sawarkar was instrumental in forming a revolutionary society called 'Abhinav Bharat', where youths were trained to oppose British establishment through revolutionary measures.
Literarature
Savarkar wrote the book The History of the War of Indian Independence. It was via this book that Savarkar became one of the first writers to allude the uprising as India's "First War for Independence".

Sone suneri

Mopalyancha Band

Gandhi gondhal
Bharat Ratna
The Bharat Ratna is the highest civilian award of the Republic of India. Instituted in 1954, the award is conferred "in recognition of exceptional service/performance of the highest order, without distinction of race, occupation, position, or sex.

The first recipients were C.Rajagopalachari, S.Radhakrishnan and Dr C.V.Raman.

The latest recipients are Pranab Mukherjee, Nanaji Deshmukh and Bhupen Hazarika.
Sachin Tendulkar is the first and the only sportsperson to receive Bharat ratna.