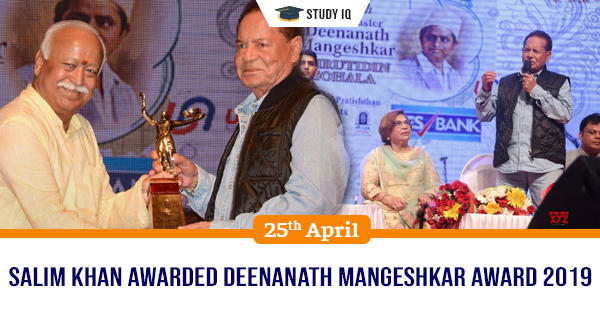 Salim Khan awarded Deenanath Mangeshkar Award 2019
Date: 25 April 2019
Tags: Honours & Awards
Popular actor, producer and screenwriter Salim Khan was awarded prestigious Lifetime Deenanath Mangeshkar Award. Besdies him, national award-winning filmmaker Madhur Bhandarkar and renowned actor Helen were also awarded in other categories
Awards 2019
Lifetime Award:

It was bestowed upon actor, producer and screenwriter Salim Khan. He is isfather of supersta Salman Khan.

Special Award:

It was bestowed upon filmmaker Madhur Bhandarkar for his contribution to Indian cinema.

Special Award:

It was bestowed upon yesteryear Actress Helen.

Music and Art:

It was conferred to classical dancer Sucheta Bhide-Chapekar.
Master Deenanath Mangeshkar Awards
These awards are conferred to legends from the field of music, drama, art and social work. They were instituted in 2011 by Master Deenanath Mangeshkar Smruti Pratishthan in honour of music composer and singer Hridaynath Mangeskar. Lifetime achievement award carries monetary award of Rs 2 lakh and a memento.

Hridaynath Mangeskar was son of renowned musician Deenanath Mangeshkar and is younger brother of Indian music legends Lata Mangeshkar and Asha Bhosle.

The previous recipients of Lifetime achievement award include eminent personalities like Amitabh Bachchan, Hariprasad Chaurasia, A R Rahman etc.