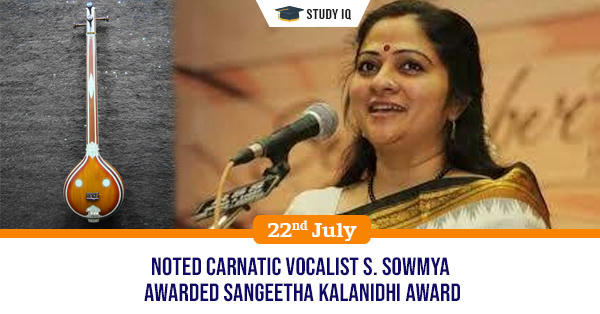 Noted Carnatic vocalist S. Sowmya awarded Sangeetha Kalanidhi Award
Date: 22 July 2019
Tags: Honours & Awards
Noted Carnatic vocalist S. Sowmya was chosen for the prestigious Sangeetha Kalanidhi award (title) of the Music Academy for year 2019. Under this recognition, she will preside over 93rd annual conference of Music Academy to be held between December 12, 2019 and January 1, 2020. The award will be conferred to her on January 1, 2020 i.e. on the day of Sadas of this conference.
Other awards:
Sangeetha Kala Acharya:

It will be awarded to Seetha Narayanan and MS Sheel for their contribution to bringing several disciples to the concert platform.

Natya Kala Acharya for Dance:

It will be conferred on Priyadarshini Govind at the inauguration of the annual dance festival.

TTK Award:

It will be awarded to Vyasarpadi Kothandaraman and Rajkumar Bharathi for making significant mark in the music field as icons and gurus. This award is named after former Union Minister and industrialist TT Krishnamachari, who was a great patron of arts and was Vice-President of Music Academy.

Musicologist Award:

It will be conferred on musicologist (scholar who participates in musical research) Aarti N. Rao.
About Sangita Kalanidhi award/title
It is prestigious award/title bestowed annually by Madras Music Academy upon expert or exponent of Carnatic Music. It is considered one of the highest awards in the field of Carnatic music. Its name has been derived from Sanskrit which means treasure of Music and art in English (sangeetha meaning music, kala measn art, nidhi means treasure).