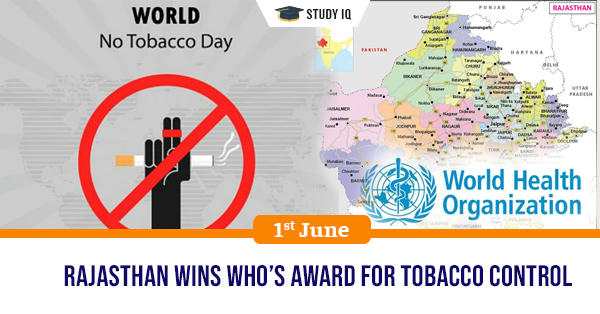 Rajasthan wins WHO's award for tobacco control
Date: 01 June 2019
Tags: Honours & Awards
Medical and Health Department of Rajasthan Government was awarded World No Tobacco Day Award for 2019 by World Health Organisation (WHO) for its contribution in the field of tobacco control. It was one of the two organisations from India (in the South-east Asian region) awarded this award. The other one from India is Vallabhbhai Patel Chest Institute, New Delhi. WHO had selected total 33 institutions and individuals across world for this years award. In South-east Asian region, two have been selected from India.
Rajasthan's Tobacco control Initiatives
State Government's Medical & Health Department had launched several campaigns against tobacco consumption at places such as schools, colleges, police stations and government offices during 2018-19.
As part of the tobacco-free initiatives, record 1.13 crore people had taken pledge against tobacco consumption at events held in 1.56 lakh government institutions on January 30, 2019, marking Martyrs' Day (orSarvodaya Day).These people were made aware about ill-effects of tobacco consumption.
Moreover, Health Department in coordination with some other departments also has developed tobacco-free premises near educational institutions, health facilities and anganwari centres for ensuring that no tobacco product is sold within 100 yards of these places.