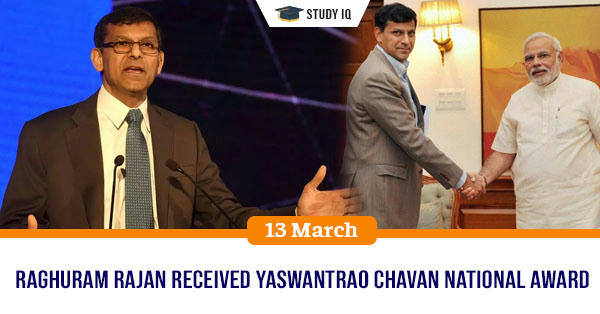 Raghuram Rajan received Yaswantrao Chavan National Award
Date: 13 March 2019
Tags: Honours & Awards
Former Reserve Bank of India (RBI) Governor Raghuram Rajan was awarded Yashwantrao Chavan National Award for the year 2018. He was awarded for his contribution towards economic development of the coutry. He was presented award on March 12, 2019 on the occasion of 106th birth anniversary of late Yashwantrao Chavan, the first chief minister of Maharashtra.
Raghuram Rajan
He had served as RBI governor between September 2013 and September 2016. He was succeeded by Urjit Patel.

He is currently professor at University of Chicago. Prior to becoming RBI Governor, he was chief economic adviser (CEA) to Ministry of Finance in 2013.

He also had worked as chief economist at International Monetary Fund (IMF) from 2003 to 2007. He had famously predicted the 2008 financial crisis in 2005.

He is credited for steering Indian economy during turbulent times of post- 2008 global financial crisis period.
Yashwantrao Chavan National Award
It is given every year to individuals/institutions in recognition of their outstanding contribution towards national integration, democratic values, and social and economic development. It is given by Yashwantrao Chavan Prathisthan in the memory of first Chief Minister of Maharashtra.