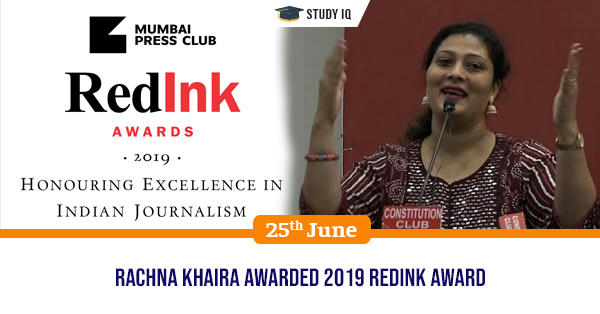 Rachna Khaira awarded 2019 RedInk Award
Date: 25 June 2019
Tags: Honours & Awards
Jounalist Rachna Khaira of The Tribune News Service has won RedInk Award for for Excellence in Indian Journalism 'Journalist of the Year' 2019. She was awarded for exposing functioning of the Unique Identification Authority of India (UIDAI) and its Aadhaar data cache. She is currently working for The Huffington Post.
Aadhar Expose Investigation
She had conducted series of sting operations to raise serious doubts over government claims that Aadhaar data stored on UIDAI servers was safe and secure. Her Aadhar Expose Investigation had confirmed that personal data of millions of citizens was at risk of being hacked or traded for a price. Many of leads provided by her investagation became part of public interest litigation (PIL) on which Supreme Court removed mandatory aspects of Aadhaar requirment.
Other Awardees of 2019
2019 RedInk Lifetime Achievement Award:

It was jointly awarded to two retired senior journalists- Dinu Ranadive and Sebastian D'Souza.
About RedInk Awards for Excellence in Indian Journalism
They are a set of annual awards which were instituted by Mumbai Press Club (MPC) in 2010. They are bestowed upon individual in recognition of his/her excellence in journalistic achievements as assessed by special jury. These awards grant national recognition to journalists