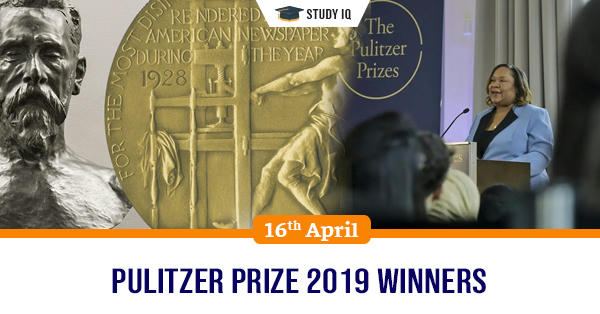 Pulitzer Prize 2019 winners
Date: 16 April 2019
Tags: Honours & Awards
The Pulitzer Prize 2019 winners in 21 categories in journalism and the arts were announced by Pulitzer Administrator Dana Canedy at Columbia University's Graduate School of Journalism, New York City. This year, Richard Powers won the Pulitzer Prize for Fiction 2019 for his epic nature novel The Overstory. This book also was shortlisted for Man Booker Prize 2018 and the PEN/Faulkner Award. The New York Times and The Wall Street Journal were awarded Pulitzer Prizes in journalism.
Winners of 2019 Pulitzer Prize are
Journalism
Public service:

Staff of South Florida Sun Sentinel

Investigative reporting:

Matt Hamilton, Harriet Ryan and Paul Pringle (Los Angeles Times).

Breaking news reporting:

Staff of Pittsburgh Post-Gazette

Explanatory reporting:

David Barstow, Susanne Craig and Russ Buettner (New York Times).

Local reporting:

Staff of Advocate

National reporting:

Staff of Wall Street Journal

International reporting:

Maggie Michael, Maad al-Zikry and Nariman El-Mofty (Associated Press) and the staff of Reuters

Feature writing:

Hannah Dreier (ProPublica).

Commentary:

Tony Messenger (St. Louis Post-Dispatch)

Criticism:

Carlos Lozada (Washington Post)

Editorial writing:

Brent Staples (New York Times).

Editorial cartooning

: Darrin Bell, a freelancer cartoonist

Breaking news photography:

Photography staff of Reuters

Feature photography

: Lorenzo Tugnoli (Washington Post)

Special citation:

Staff of Capital Gazette
Books, Drama and Music
Fiction:

Richard Powers for The Overstory.

Drama

: Fairview by Jackie Sibblies Drury

Nonfiction:

Fracturing of America by Eliza Griswold and Amity and Prosperity: One Family.

History:

Frederick Douglass: Prophet of Freedom by David W. Blight

Autobiography or Biography:

The New Negro: The Life of Alain Locke by Jeffrey C. Stewart

Poetry:

Be With by Forrest Gander

Music:

prism by Ellen Reid

Special citation:

Aretha Franklin
Pulitzer Prize
It is awarded for achievements in newspaper, online journalism and magazine, literature, and musical composition in United States.

It was established in 1917 as per provisions in will of American (Hungarian-born) Joseph Pulitzer who had made his fortune as newspaper publisher. It is administered by Columbia University in New York City.

It is awarded yearly in 21 categories. In twenty of the categories, each winner receives certificate and monetary award of US$15,000.

The winner in the public service category of journalism is awarded gold medal.