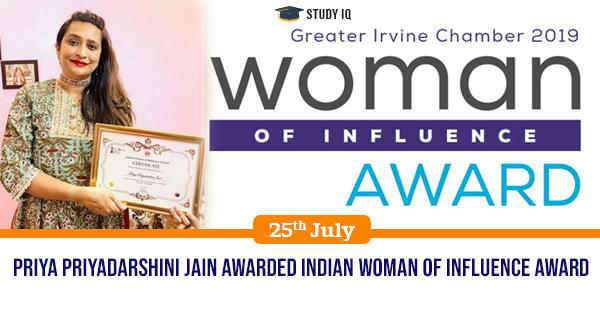 Priya Priyadarshini Jain awarded Indian Woman of Influence award
Date: 25 July 2019
Tags: Honours & Awards
Eminent fashionista, social entrepreneur and philanthropist Priya Priyadarshini Jain was felicitated with the prestigious 'Indian Woman of Influence' award at House of Lords (Upper House) of United Kingdom Parliament, London. During this award ceremony, coffee table book on '50 most influential Indian women worldwide' was also launched. This coffee table book featured top Indian women like former President of India Pratibha Patil, Nita Ambani, , MP Caroline, Baroness Smith, Hema Malini, Shilpa Shetty, Pinky Anand, Shivani Mehra along with Priya Priyadarshini Jain and others.
About Indian Woman of Influence Awards
It recognizes power of Indian women residing in different parts of the world. It assures that women of Indian origin are the leaders in their respective fields in the countries they presently live. It has awardees from various countries.