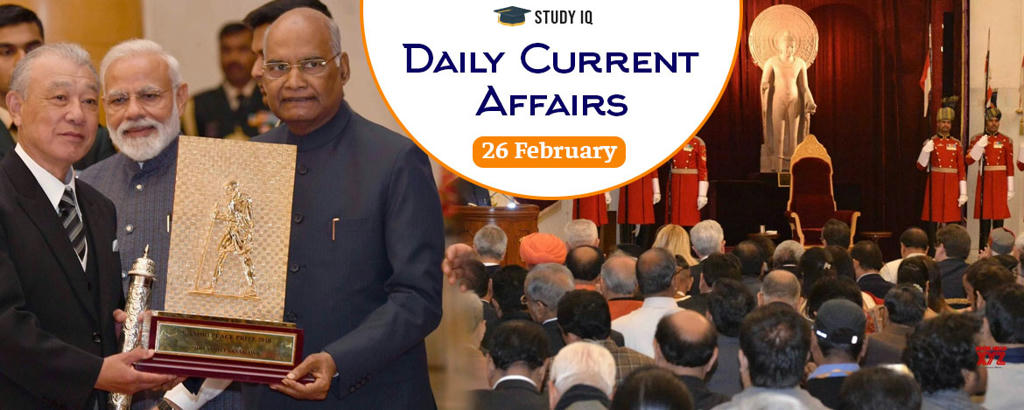 President confers Gandhi Peace Prize for 2015, 2016, 2017 and 2018
Date: 26 February 2019
Tags: Honours & Awards
President Ram Nath Kovind conferred Internationa Gandhi Peace Prize for the years 2015, 2016, 2017 and 2018 on Vivekananda Kendra (Kanyakumari), Akshaya Patra Foundation and Sulabh International, Ekal Abhiyan Trust and Yohei Sasakawa, respectively at a function held in Rashtrapati Bhavan, New Delhi.
The awardees were selected by jury under Chairmanship of Prime Minister Narendra Modi. It comprised of Chief Justice of India Ranjan Gogoi, Speaker of Lok Sabha Sumitra Mahajan, Leader of single largest Opposition Party in Lok Sabha Mallikarjuna Kharge and Member of Parliament, L.K. Advani.
Awardees are
2015: Vivekananda Kendra (Kanyakumari):

It was awarded for its contribution in rural development, education, development of natural resources.

2016: Akshaya Patra Foundation:

It was awarded for its contribution in providing mid-day meals to millions of children across India.
Sulabh International: It was awarded for its contribution in improving the condition of sanitation in India and emancipation of manual scavengers.

2017: Ekal Abhiyan Trust:

It was awarded for its contribution in providing education for rural and tribal children in remote areas pan India, rural empowerment, social and gender equality.

2018:

Yohei Sasakawa: He hails from Japan and was awarded for his contribution in Leprosy eradication in India and across the world.
About Gandhi Peace Prize
It was instituted by Central Government (Ministry of Culture) in 1995 on occasion of the 125th birth anniversary of father of nation- Mahatma Gandhi.

It is awarded annually to individuals and institutions for their contributions towards social, economic and political transformation through non-violence and other Gandhian methods.

It carries cash prize of Rs. 1 crore, citation and plaque as well as exquisite traditional handicraft/handloom item.
Its recipients are selected by jury headed by Prime Minister, Leader of Opposition (or leader of single largest opposition party) in Lok Sabha,Chief Justice of India and two other eminent persons.

Former Tanzanian President Julius K Nyerere was the first recipient of this award in 1995. Other recipients are ISRO (2014), Baba Amte, Ramakrishna Mission, Grameen Bank, Bharatiya Vidya Bhavan, Nelson Mandela, Desmond Tutu and others.