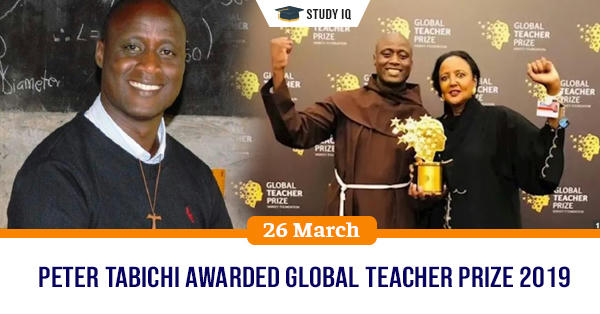 Peter Tabichi awarded Global Teacher Prize 2019
Date: 26 March 2019
Tags: Honours & Awards
Science teacher Peter Tabichi (36) from rural Kenya was awarded prestigious Global Teacher Prize 2019 at ceremony in Dubai, United Arab Emirates (UAE). He was chosen out of 10 000 nominations coming from 179 countries. Indian teacher Swaroop Rawal, was also one of top 10 contender for the award.
Peter Tabichi
He is maths and physics teacher at Keriko Mixed Day secondary school in Pwani Village, in remote semi-arid part of part of Kenya's Rift Valley.

He had started various initiatives in school and expanded school's science club, helping pupils design research projects of such quality that many now qualify for national and international competitions.

His students have taken part in international science competitions and won many prestigious awards. Around 95% of his students hail from poor families.

He donates 80% of his income to help poorest students at his school which is poorly-equipped and overcrowded school.
Global Teacher Prize
It is awarded annually to teacher who has made outstanding contribution to the profession.

It recognizes pivotal role played by educators and seeks to acknowledge impact of their work not only on their students but on the communities around them.

It was launched at second annual Global Education and Skills Forum in March 2014 by Varkey Foundation. Its winners are awarded monetary prize of US $1 million

It is awarded under patronage of Sheikh Mohammed bin Rashid Al Maktoum, Vice President and Prime Minister of United Arab Emirates (UAE) and Ruler of Dubai.

It is referred to by journalists as Nobel Prize for teaching. It highlights and celebrates profession while giving greater recognition to work of teachers all over the world.