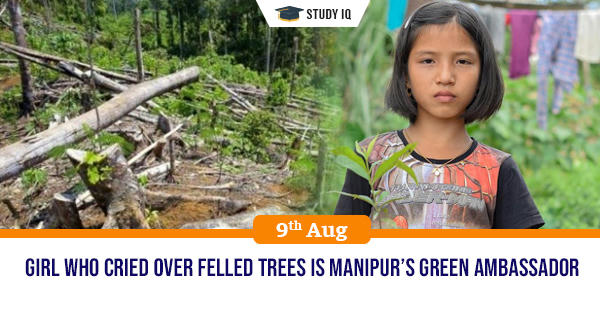 Girl who cried over felled trees is Manipur's green ambassador
Date: 09 August 2019
Tags: Honours & Awards
Context: The Manipur government has appointed a nine-year-old girl (Elangbam Valentina Devi of Hiyanglam Makha Leikai in Kakching district ) as the State's green ambassador, less than a week after a video of her crying for two trees axed for a road-widening project went viral.
About the girl:
The girl is a Class V student of Amutombi Divine Life English School in Kakching town, about 45 km southeast of Manipur's capital Imphal.
The girl had planted the saplings of two Gulmohar (royal poinciana) trees by the side of a river when she was in Class I.
She had been tending to the saplings, which grew up into healthy trees in about four years.
The two trees, along with other vegetation, were axed for a project to widen a road beside the river.
A videographer filmed her crying over the trees.
About the order:
This was in recognition of her immense love and affection for trees and for generating mass awareness on conservation of the environment.
The order will remain in force for 1 year from the date of issuance.
According to the order the girl will be part of all advertisements and campaigns that promote an increase in Manipur's green cover.
"She will be provided honorarium at government rates, transportation facilities, food and lodging facilities at admissible rates by the sponsoring government department," the order said