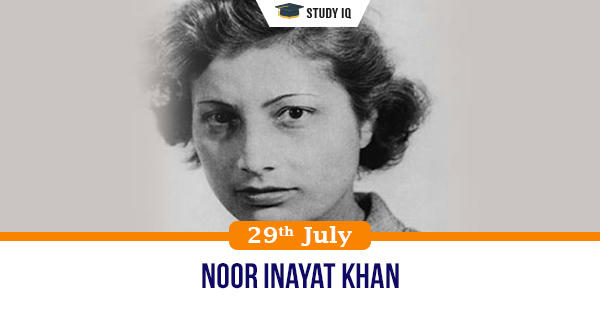 Noor Inayat Khan
Date: 29 July 2020
Tags: Honours & Awards
Issue
British media reported that the Chancellor of the Exchequer is considering a proposal to feature historical figures from the Black, Asian and minority ethnic (BAME) community of the country on a set of coins titled 'Service to the Nation'.
Background
If the proposal is passed, it will be the first time that non-white people will be featured on British coins or notes. The plan has been submitted to the Royal Mint, which is to come up with proposals and designs.
Details
Among the people suggested for the honour were the Indian-origin British spy Noor Inayat Khan, as well as Khudadad Khan, the first soldier of the British Indian Army to receive the Victoria Cross.

Born in Moscow to an Indian father and an American mother, her family moved to London and then to Paris during the First World War.

Although Noor started working as a children's writer in Paris, she escaped to England after the fall of France (when it was invaded by Germany) during the Second World War.

In November 1940, she joined the Women's Auxiliary Air Force, an arm of the UK's Royal Air Force to train as a wireless operator.

She then did a stint at the secret intelligence organization set up by Winston Churchill called Special Operations Executive (SOE).

She became the first radio operator to be sent to Paris to work for SOE's Prosper resistance network under the codename Madeleine. She was just 29 then, and had signed up for a job in which people were not expected to be alive for longer than six weeks.

Even as many members of the network were being arrested by the Nazi secret police Gestapo, Noor chose to stay put and spent the summer moving from one place to another, sending messages back to London, until she was arrested in 1943.

She was executed at the Dachau concentration camp in southern Germany near Munich. Noor was awarded the highest honour in the UK, the George Cross, in 1949, and the French Croix de Guerre with the silver star posthumously.