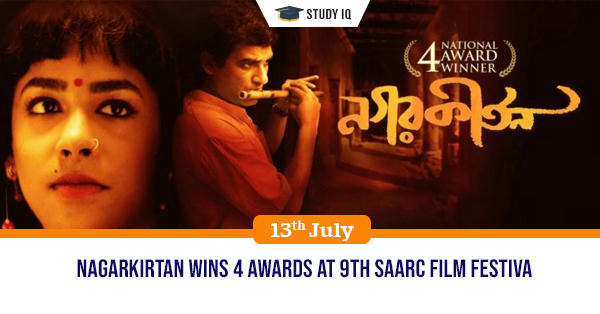 Nagarkirtan wins 4 awards at 9th SAARC film festival
Date: 13 July 2019
Tags: Honours & Awards
Director Kaushik Ganguly's 'Nagarkirtan' (Bengali) won four awards at 9th SAARC Film Festival. It won awards for Best Feature Film, Best Original Score (Prabuddha Banerjee), Best Actor (Riddhi Sen) and Best Director (Kaushik Ganguly). It received recognition for its most sensitive and delicate employment of emphatic power of cinema depicting truth but understanding beyond prejudice, cultural, religious and gender borders.
Nagarkirtan: It is critically acclaimed Bengalmovie, starring Riddhi Sen and Ritwik Chakraborty. It is love story of a transwoman and a flautist. In 2017, it had won four National Awards, including The Best Actor, The Special Jury (Feature Film), Best Costume Design and Best Make-up Artiste
Two other Indian films also have won awards at 19th SAARC Film Festival
Na Bole Wo Haram:

It is a 20-minute film by debutant director Nitish Patankar. It bagged the 'Best Short Film' award.

Walking With the Wind:

It is directed by Praveen Morchhale received the Special Jury award for direction and story.
About SAARC
It is regional intergovernmental organization and geopolitical union of nations in South Asia. It promotes development of economic and regional integration.

It was established in Dhaka, Bangladesh on 8 December 1985. Its secretariat is based in Kathmandu, Nepal.

Members (8):

India, Bangladesh, Bhutan, Afghanistan, Nepal, Maldives, Pakistan and Sri Lanka. Its members collectively account for 3% of world's area, 21% of world's population and 3.8% of global economy as of 2015.