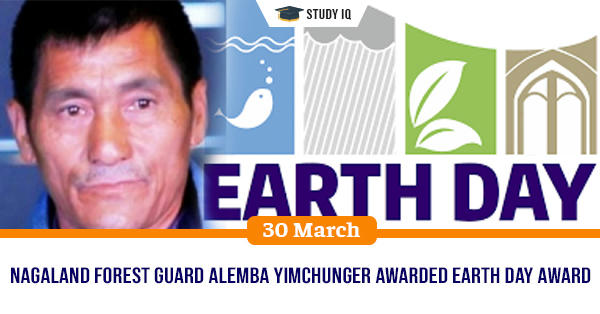 Nagaland forest guard Alemba Yimchunger awarded Earth Day award
Date: 30 March 2019
Tags: Honours & Awards
Alemba Yimchunger, a Forest Guard at Fakim Wildlife Sanctuary in Kipheri district of Nagaland was awarded Earth Day Network Star. The award will be presented to him on Earth Day observed on 22nd April.
He has been awarded for his services rendered to conservation and protection of biodiversity. In his 30 years of service, he has played a major role in protection of forests and wild animals in and around Fakim sanctuary.
Earth Day Star Network
Earth Day Network Star given by Earth Day Network. It is considered a prestigious recognition of those who do excellent work in the environmental field.

Earth Day Network is US based international environmental NGO that engages with over 50,000 organizations in 195 countries.

Its mission is to diversify, educate and activate environmental movement worldwide. It leads and coordinates activities on the Earth Day worldwide.
Earth Day
It is annual event celebrated on 22nd April. It celebrates Earth's environment and raises public awareness about pollution. The first Earth Day was celebrated in 1970. Year 2020 will mark 50th anniversary of Earth Day.