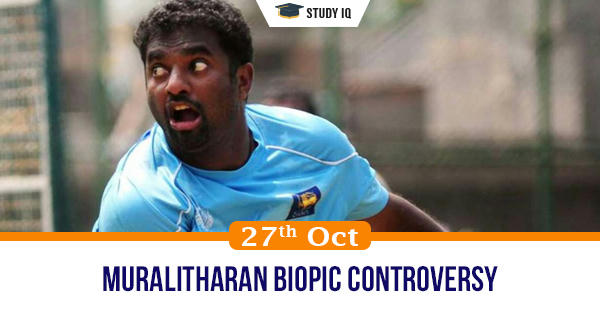 Muralitharan biopic controversy
Date: 27 October 2020
Tags: Books & Authors
Issue
A controversy over the legendary cricketer from Sri Lanka Muttiah Muralitharan erupted, when the actor Vijay Sethupathi, tweeted about the launch of '800', a biopic on the cricketer.
Details
Tamil nationalist sympathisers in the world of film and politics in Tamil Nadu publicly expressed their wish that Sethupathi should not act in the biopic as they believe Muralitharan was a traitor to the cause of Sri Lankan Tamils.

They questioned his conduct during the Sri Lankan civil war, which left lakhs of civilians dead, and ended with the defeat of the Liberation Tigers of Tamil Eelam (LTTE) in 2009.

Anger stemmed from Muralitharan's association with Mahinda Rajapaksa, who is now Sri Lanka's Prime Minister, and his brother Gotabaya Rajapaksa, who is the President.

In 2009, Mahinda Rajapaksa was the President and Gotabaya was the Defence Minister – and both were accused of gross human right violations in the final stages of the war.

In 2011, the United Nations released a report accusing the Sri Lankan army of war crimes, and estimated that 40,000 civilians may have died in the final months of the civil war.

Last December, Muralitharan had praised President Gotabaya Rajapaksa as an efficient administrator, and taken umbrage at Tamil Nadu politicians for interfering in the affairs of the Sri Lankan Tamils.

In 2019, Muralitharan had stated that 2009, the year in which war ended, was the happiest year in his life. This was misinterpreted by politicians in Tamil Nadu as support for Tamil genocide, which they accused to have taken place.

The film's producers clarified that the film would not show Eelam Tamils in a bad light, but that didn't stop the criticisms from the likes of lyricist Vairamuthu and others.