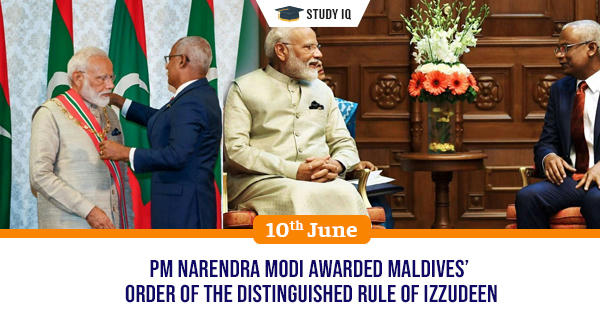 PM Narendra Modi awarded Maldives' Order of the Distinguished Rule of Izzudeen
Date: 10 June 2019
Tags: Honours & Awards
Prime Minister Narendra Modi was awarded Order of the Distinguished Rule of Izzudeen by the Maldives Government. It is the Maldives' highest honour for a foreign dignitary. He was awarded in recognition of his services for cementing longstanding, amicable ties between India and Maldives, and for the magnanimous assistance that Indian government has continued to provide the Maldives. It was overall eight global award bestowed upon Prime Minister Narendra Modi.
Global awards conferred on PM Modi since 2014
Order of King Abdulaziz Sash:

It is Saudi Arabia's highest civilian honour (April 2016).

Amir Amanullah Khan Award:

It is Afghanistan's highest civilian award (June 2016).

Grand Collar of the State of Palestine:

It is Palestine's highest honour given to foreign dignitaries (February 2019). .

Champions of the Earth award:

It is UN's highest environmental honour, awarded by UNEP (October 2018).

Seoul Peace Prize:

It is by Seoul Peace Prize Foundation (February 2019).

Order of Zayed:

It is UAE's highest civil honour (April 2019).

Order of St. Andrew the Apostle:

It is highest civilian award of the Russia (April 2019).