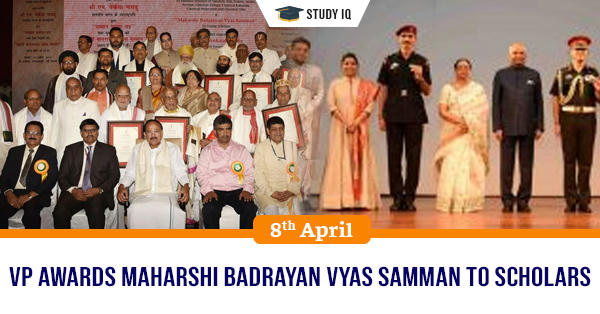 VP awards Maharshi Badrayan Vyas Samman to scholars
Date: 08 April 2019
Tags: Honours & Awards
Vice President Venkaiah Naidu recently conferred around 100 President's Certificate of Honour and 'Maharshi Badrayan Vyas Samman Awards to scholars in Classical Languages. Both the awards are presented by Union Ministry of Human Resources and Development.
Presidential Award of Certificate
It is certificate of honour awarded to scholars of Sanskrit, Arabic and Persian Languages. It was introduced in 1958.

It is conferred on persons/ scholars over 60 years of age in recognition of their outstanding contribution to various classical languages.

It was extended to cover Pali/Prakrit language in 1996. It also has been extended to cover Classical Kannada, Classical Telugu, Classical Odiya, Classical Tamil and Classical Malayalam
Maharshi Badrayan Vyas Samman
It is annual award is bestowed upon persons in recognition of their substantial contribution in field of Sanskrit, Pali, Prakrit, Persian, Arabic, Classical Oriya, Classical Kannada, Classical Telugu and Classical Malayalam.

It was introduced by Government in 2002. It is named after great Indian philosopher Maharshi Badrayan

It is awarded to selected young scholars in the age group of 30 to 45 years.

It carries certificate of honour, memento and one-time monetary prize of Rs.1 lakh.
Maharshi Badrayan
He is considered as founder of Vedanta system of philosophy. He is regarded as main writer of basic text of Vedanta system of philosophy viz. Vedantasutra or Brahmasutra. The exact date or era of Badarayana and his text Brahma Sutras is uncertain and contested topic among scholars. Some have dated Brahma Sutras during different time period ranging from 500 BCE to 450 BCE.