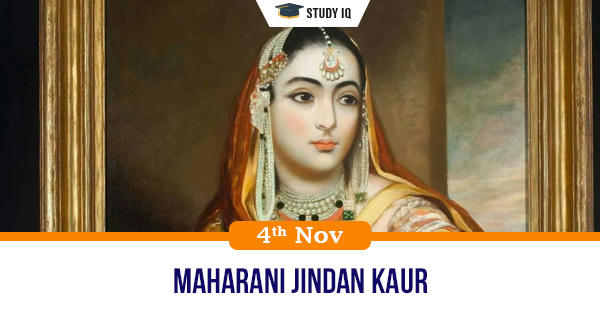 Maharani Jindan Kaur
Date: 04 November 2020
Tags: Miscellaneous
Issue
Maharani Jindan Kaur is in news for the auction of some of her jewellery at an Art sale in London earlier this week. She is the last wife of Maharaja Ranjit Singh.
Background
Jindan Kaur led a spirited resistance to the encroachment of the British into the Punjab, but was eventually forced to surrender.
Details
She was the youngest wife of Maharaja Ranjit Singh, founder of the Sikh empire, whose boundaries stretched from Kabul to Kashmir and the borders of Delhi.

She was also the mother of Maharaja Duleep Singh, the last ruler of the empire, who was raised by the British.

Kaur was born at Chachar in Gujranwala in 1817. She was the youngest of three siblings. Her father Manna Singh Aulakh was the overseer of the royal kennels.

Duleep Singh was five years old when he was placed on the throne in 1843 after the death of two heirs to Maharaja Ranjit Singh. She was made the reagent as he Duleep Singh was minor.

The British declared war on the Sikh empire in December 1845. After their victory in the first Anglo-Sikh war, they retained Duleep Singh as the ruler but imprisoned Jindan Kaur.

Kaur escaped to Nepal from the Chunar fort where she was imprisoned. She tried to support rebellion from her hiding.

She established contact with Bhai Maharaj Singh in Jammu and Kashmir. She also sent emissaries to Maharaj Gulab Singh of Jammu.
Anglo-Sikh wars
The first war was caused by mutual suspicions and the turbulence of the Sikh army. The Sikh state in the Punjab had been built into a formidable power by the maharaja Ranjit Singh, who ruled from 1801 to 1839.

Relations with the British had already been strained by the refusal of the Sikhs to allow the passage of British troops through their territory during the First Anglo-Afghan War (1838–42).

The Sikhs crossed the Sutlej River in December 1845 under the pretext of stopping a British attack.

The British annexed Sikh lands east of the Sutlej and between it and the Beas River; Kashmir and Jammu were detached, and the Sikh army was limited to 20,000 infantry and 12,000 cavalry. A British resident was stationed in Lahore with British troops.

The Second Sikh War began with the revolt of Mulraj, governor of Multan, in April 1848 and became a national revolt when the Sikh army joined the rebels on September 14. The Sikh army surrendered on March 12, and the Punjab was then annexed.