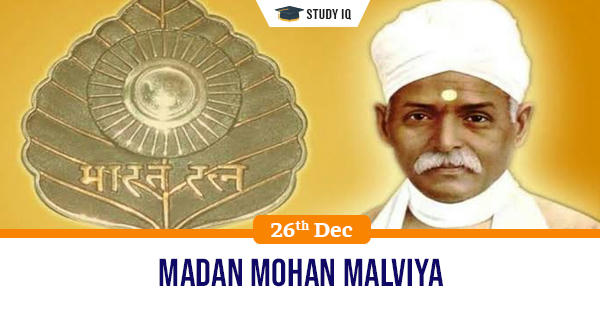 Madan Mohan Malviya
Date: 26 December 2019
Tags: Books & Authors
Issue
December 25 is the birth anniversary of Madan Mohan Malaviya, the famed Indian educationist and freedom fighter who is also called 'Mahamana'.
Details
Malaviya is known for founding the Banaras Hindu University and for becoming one of the torchbearers of the freedom struggle, acting as a bridge between the Moderates and the Extremists in the Congress.

In the freedom struggle, Malaviya was midway between the Liberals and the Nationalists, the Moderates and the Extremists, as the followers of Gokhale and Tilak were respectively called.

Malaviya joined the Indian National Congress at its Calcutta session in 1886. Malaviya rose up the ranks, and became president four times, in 1909 (Lahore), in 1918 (Delhi), in 1930 (Delhi), and in 1932 (Calcutta).

Malaviya was one of the early leaders of the Hindu Mahasabha, and helped found it in 1906. He was a social reformer and a successful legislator, serving as a member of the Imperial Legislative Council for 11 years (1909–20).

Malaviya propagated free and compulsory primary education, opposed the system of indentured labour in the British Empire, and supported the nationalisation of railways.

In 1930, when Mahatma Gandhi launched the Salt Satyagraha and the Civil Disobedience Movement, he participated in it.

In 2015, the government bestowed Malaviya with the Bharat Ratna, India's highest civilian honour, 68 years after his death.
Moderates and Extremists in congress
Moderates
They believe in the efficacy of peaceful and constitutional agitation.

They had great faith in the British sense of justice and fair play.

They were inspired by the ideas of western philosophers like Mill, Burke, Spencer and Bentham.

Moderates imbibed western ideas of liberalism, democracy, equity and freedom.

They Aimed at administrative and constitutional reforms.

They Wanted more Indians in the administration and not to an end of British rule.

Ex: Dadabhai Naoroji, Gopal Krishna Gokhale, etc.
Extremists
They were guided by four: principles Swarajya, Swadeshi, Boycott of foreign goods and National education to make the Indian aware.

They were radical in their approach. Demands of extremists were aggressive.

They believed in atmashakti or self-reliance as a weapon against domination.

Ideological inspiration was Indian History, Cultural heritage, national education and Hindu traditional symbols. Hence, they revived the Ganapati and Shivaji festivals to arouse the masses.

They wanted to inculcate pride in India's glorious culture to generate the spirit of nationalism.

Ex: Bal Gangadhar Tilak, Bipin Chandra Pal, Lala Lajpat Rai, and Aurobindo Ghosh.