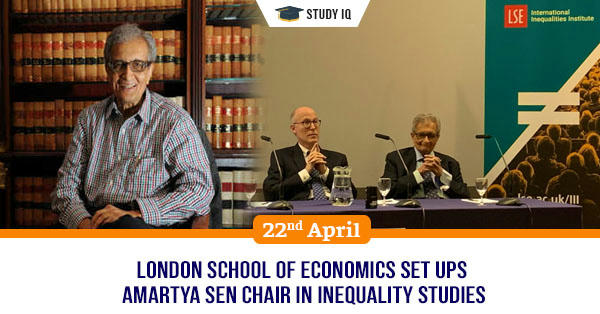 London School of Economics set ups Amartya Sen Chair in Inequality Studies
Date: 22 April 2019
Tags: Honours & Awards
The London School of Economics and Political Science (LSE) has set up Amartya Sen Chair in Inequality Studies to honour Nobel laureate who was professor of economics at LSE between 1971 and 1982. Amartya Sen is recognized as one of the world's great thinkers on social equity. He is renowned for this theories of justice, equity and well-being. He was awarded Noble Prize in the year 1998 for his works in Welfare Economics.
Amartya Sen Chair
It has been set up in recognition of contribution that Amartya Sen's writing which has helped in understanding of inequality.

Its holder will also serve as director of LSE International Inequalities Institute, which facilitates interdisciplinary research on issues related to inequality.

It will provide coordination and strategic leadership on t inter-disciplinary analysis of inequalities at LSE.

Besides, it will connect research on inequalities across LSE, engage with public and policy-makers, and develop and supports new world-class research.