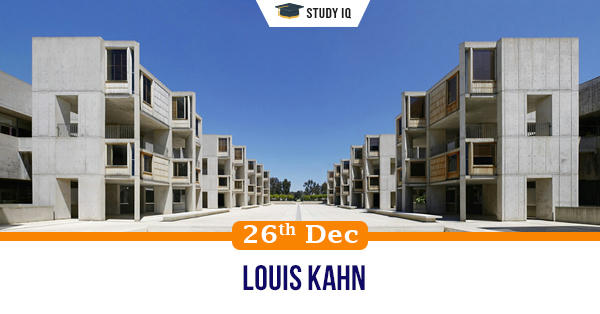 Louis Kahn
Date: 26 December 2020
Tags: Miscellaneous
Issue
The board of the Indian Institute of Management-Ahmedabad has decided to demolish the dormitories built by legendary American architect Louis Kahn on its campus.
Background
The IIM-A plans to bring down at least 14 of 18 dorms which were built between 1968 and 1978 have problems of leakages from the roof, dampness in walls, leakages in toilet walls, slabs etc.
Details
The alumni have expressed concern about the campus losing its cultural and Kahn's architectural heritage, while some have stated that this will make the campus lose its central theme of "meeting and socialising".

Unlike Kahn's imposing red brick old campus, the buildings of the new campus are built in exposed concrete as the primary building material.
Louis Kahn
Louis Isadore Kahn was an American architect, based in Philadelphia. He served as a design critic and professor of architecture at Yale School of Architecture.

Kahn was one of the most influential architects of the twentieth century. He was awarded the AIA Gold Medal and the RIBA Gold Medal. At the time of his death he was considered by some as America's foremost living architect.

Kahn was elected a Fellow in the American Institute of Architects (AIA) in 1953. He was made a member of the National Institute of Arts and Letters in 1964.

He was awarded the Frank P. Brown Medal in 1964. In 1965 he was elected into the National Academy of Design as an Associate Academician.
Famous works
The Salk Institute, La Jolla, California

Shaheed Suhrawardy Medical College and Hospital, Dhaka, East Pakistan (modern Bangladesh)

Indian Institute of Management, Ahmedabad, in Ahmedabad, India (1961).

Hurva Synagogue, Jerusalem, Israel, (1968–1974).

Yale Center for British Art, Yale University, New Haven, Connecticut

Jatiyo Sangshad Bhaban (National Assembly Building) in Dhaka (modern Bangladesh) was Kahn's last project, developed 1962 to 1974.