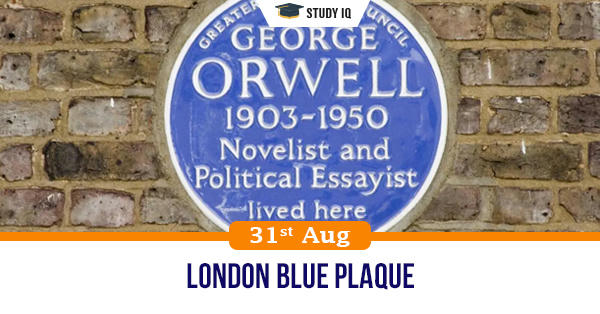 London blue plaque
Date: 31 August 2020
Tags: Honours & Awards
Issue
World War II spy Noor Inayat Khan is now the first woman of Indian origin to be commemorated by the distinct blue London plaque.
Background
The idea of placing commemorative plaques on historically significant buildings was first conceived in 1863. The idea was to honour important people and organisations who have lived or worked in London buildings.
Details
The blue plaque scheme is being run by the charity organisation, English Heritage, that takes care of historic sites and buildings in England.

Over a span of more than 150 years, the blue plaque has been placed on more than 900 buildings in London, and enjoys an enduring popularity among heritage lovers of the country.

In 1867 the first blue plaque commemorated the poet Lord Byron at his birthplace, 24 Holles Street, Cavendish Square.

While Khan is the first woman of Indian origin to be honoured with a blue plague, it has been erected on houses and venues associated with several Indian men including Mahatma Gandhi, Raja Ram Mohon Roy, and B R Ambedkar.
Noor Inayat Khan
Khan was born in 1914 to a Sufi saint Hazrat Inayat Khan and an American mother. She was also a descendent of Mysore king, Tipu Sultan.

She received her education in London and Paris. Later on, she joined Britain's SOE in 1943 and became its first female radio operator to be sent to Nazi-occupied France.

While undercover, she eluded the Nazi forces and transmitted messages to London. It is said that when she was arrested by the Nazis, Khan did not reveal anything about her mission, not even her name.

Eventually, she was shot in the head on September 11, 1944, at Dachau concentration camp.