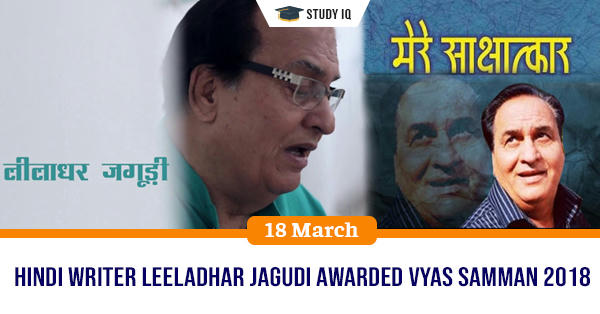 Hindi writer Leeladhar Jagudi awarded Vyas Samman 2018
Date: 18 March 2019
Tags: Honours & Awards
Renowned Hindi writer Leeladhar Jagudi will be honoured with Vyas Samman 2018 for his collection of poems "Jitne Log Utne Prem". His poem book was published in 2013.
Leeladhar Jagudi
He was born in Dhangal village in Tehri Garhwal district of Uttarakhand.

He is author of several poetry anthologies including Natak Jari Hai and Shankha Mukhi Shikharon Par.

He was awarded Padma Shri in 2004 apart from other awards, including Sahitya Akademi Award, Akashvani National Award and Uttarakhand Gaurav Samman.
Vyas Samman
It is given annually to outstanding literary work in Hindi authored by Indian citizen which has been published in the last decade.

It was started in 1991 by the KK Birla Foundation. It carries monetary amount of Rs. 4 lakh.