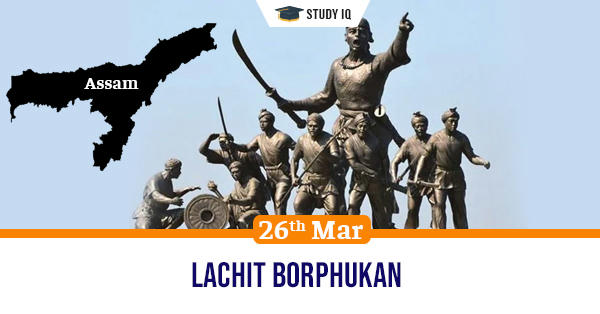 Lachit Borphukan
Date: 26 March 2021
Tags: Miscellaneous
Issue
The role of Lachit Borphukan in defeating Mughals has been frequently mentioned during the election campaign in Assam.
Background
Lachit Borphukan was hailed as a freedom fighter by PM Modi during a function in Assam, which was criticised by the opposition.
Details
Lachit Borphukan was a general in the Ahom army in the 17th century, who fought against the mighty Mughals during the battle of Saraighat.

Lachit Borphukan has the similar stature as Shivaji for Marathas as he was considered the united face of Assamese identity, who fought against foreigners.

The Tai-Ahom ethnic community today resides in Upper Assam and they represent Assamese sub-nationalism.
Significance
Lachit Borphukan has been considered a brave 'Hindu', who fought against the 'Muslim' Mughal invaders.

This version has been able to create a Hindu and pan-India identity for the Ahom general.