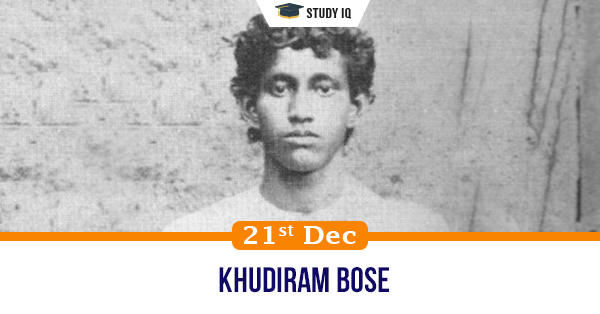 Khudiram Bose
Date: 21 December 2020
Tags: Miscellaneous
Issue
Union Home Minister Amit Shah visited the native village of Bengali revolutionary Khudiram Bose in Midnapore, West Bengal.
Details
One of the youngest leaders of the Independence movement, Bose is highly regarded in Bengal for his fearless spirit.

He is most remembered for his attempt to assassinate the British judge, Magistrate Douglas Kingsford, which ultimately led him to be sentenced to death at the young age of 18.

In 1905, when Bengal was partitioned, he actively participated in protests against the British. At the age of 15, Bose joined the Anushilan Samiti, an early 20th century organisation that propounded revolutionary activities in Bengal.

Bose along with Prafulla Chaki were assigned the task of assassinating the district magistrate of Muzaffarpur, Kingsford.

There were multiple attempts to assassinate Kingsford. Initially the plan was to throw the bomb in the court, which was abandoned.

Thereafter, on April 30, 1908, Bose threw a bomb on a carriage which he suspected was carrying Kingsford. Bose was arrested when he tried to escape by a train.

On May 21, 1908, the historic trial of Bose began presided by Judge Corndoff, Nathuni Prasad and Janak Prasad in the Jury. On July 13, 1908, Bose was finally sentenced to death.