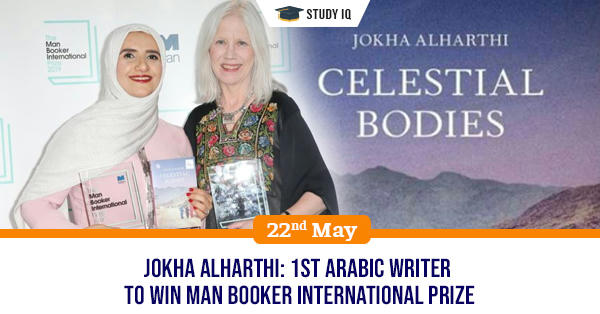 Jokha Alharthi: 1st Arabic writer to win Man Booker International Prize
Date: 22 May 2019
Tags: Honours & Awards
Jokha Alharthi, an author from Oman was awarded Man Booker International Prize 2019 for her fictional novel "Celestial Bodies". With this, she became first Arabic-language writer to win this prestigious literally prize. She will split cash prize with her UK-based translator, Marilyn Booth. "Celestial Bodies" is story of three sisters of a desert country confronting its slave-owning past and a complex modern world.
About Man Booker International Prize
It is international literary award sponsored by Man Group, the same organisation that gives the Man Booker Prize for fiction. It is annually given for single work of fiction in any language that has been translated into English and published in United Kingdom in previous year. It carries monetary award of 50,000 pounds (US $64,000) which is split evenly between writer and translator.