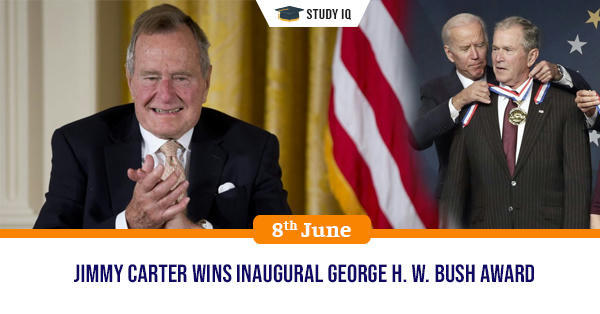 Jimmy Carter wins inaugural George H. W. Bush Award
Date: 08 June 2019
Tags: Honours & Awards
Former US President of Jimmy Carter (94) was awarded inaugural George H. W. Bush Award for Statesmanship. He was awarded in recognition of his contributions to relations between US and China.
About George H. W. Bush Award
It instituted by George H. W. Bush Foundation. It is name after George H. W. Bush who was 41st president of US from 1989 to 1993. It is conferred to people who have made profound contributions towards development of constructive and mutually beneficial relations between US and People's Republic of China.
About Jimmy Carter
He had served as 39th president of United States from 1977 to 1981. During his tenure, Joint Communique on Establishment of Diplomatic Relations was signed between US and China on 1 January 1979. It had stated official beginning of diplomatic relations between US and China. He also had announced withdrawal of all US military personnel from Taiwan and end to Sino-American Mutual Defense Treaty signed with China. Prior to becoming President, he was governor of Georgia (from 1971-1975).