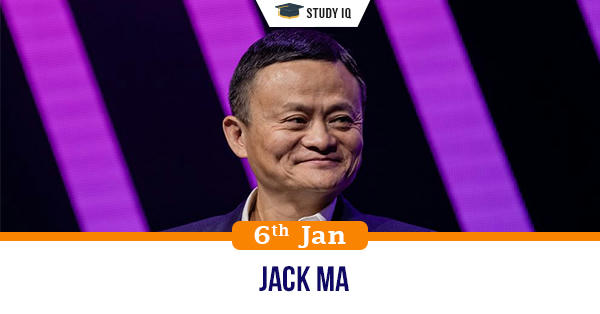 Jack Ma
Date: 06 January 2021
Tags: Miscellaneous
Issue
Absence of Chinese billionaire and founder of Alibaba Group, Jack Ma from a TV show has fuelled speculations about his whereabouts.
Background
This comes at a time when Ma and his companies are facing a crackdown from Chinese regulators after he made a speech that criticised Chinese regulatory system.
Details
Jack Ma was born in 1964 as Ma Yun in China's Hangzhou city. He became interested in the English language at a young age and worked as a guide for foreign tourists to Hangzhou in his teens.

Ma attended Hangzhou Teacher's Institute (now known as Hangzhou Normal University) and graduated in 1988 with a bachelor's degree in English.

Ma applied for 30 jobs but got rejected every time. He then got a job at a local university where he taught English. He separately began a translation company with some of his friends.

Ma got to witness the internet and its potential for the first time in 1995 during a US trip. After his return to China, he thought of building something which would put China on the world's internet map.

He founded China Pages, a yellow pages website that didn't succeed. Then he helped set up a website for a government agency in Beijing.

Ma founded Alibaba Group in June 1999 along with his wife and a group of friends. Initially, the platform allowed businesses to sell products to each other. In 2000, Alibaba raised $25 million from investors including Goldman Sachs and SoftBank.

After dominating the e-commerce industry in China, Alibaba expanded to other businesses as well such as cloud computing, video-streaming, movie production, healthcare, sports, retail, and news media.

With a net worth of $48.2 billion, Ma is the second-wealthiest person in China (after Ma Huateng), as well as one of the wealthiest people in the world.