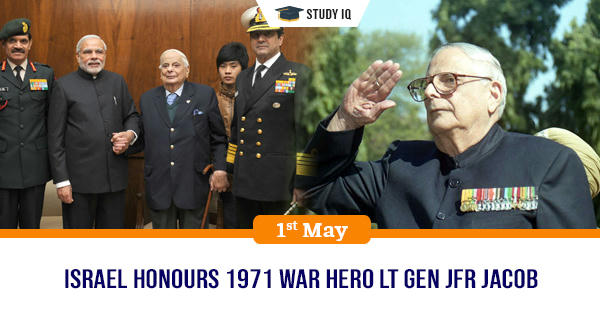 Israel honours 1971 war hero Lt Gen JFR Jacob
Date: 01 May 2019
Tags: Honours & Awards
Israel has honoured Lt. Gen. (retd) Jack Farj Rafael (JFR) Jacob with a plaque on Ammunition Hill Wall of Honour in Jerusalem. He is one of decorated Indian war heroes of 1971 Liberation War of Bangladesh. He was also one o most prominent members of India's relatively small Jewish community.
Wall of Honour at the Ammunition Hill
It pays tributes to heroism and courage of Jewish soldiers who fought in defence of their countries they lived in implementing values of bravery, loyalty, commitment and dedication to a mission, leadership, creativity, camaraderie and sanctity of life.
It so far has honoured more than 340 people comprising privates, high ranking army officers, women, front line fighters and humble members of supporting units.
Significance of site: Ammunition Hill was fortified Jordanian military post in tnorthern part of Jordanian ruled East Jerusalem. It was captured by Israel during fiercest battles of Six Day War in which 21 Israeli soldiers were killed. It is now national memorial site where young soldiers and officers are inducted into Israel Defence Forces (IDF) and salute the flag.
Contributions: The 90-feet high structure with flag at this site was donated by Indian Jew, Sam Marshall in association with India-born Jewish Judge Abe Sofaer of US.
Role in Indo-Pak War 1972
Lt. Gen. Jacob is known for negotiating surrender of Pakistani troops in Dhaka in 1972 which ended 13-day war and led to creation of Bangladesh. At that time, he was Major General and Chief of Staff of Kolkata-based Eastern Army Command. He later went on to become Commander-in-Chief of the eastern command.
About Jacob Farj Rafael Jacob
He was born in Calcutta in 1923 to Jewish parents from Iraq. His family was originally from Iraq and had settled in Bengal in mid-18th century. He died in 2016.

He had joined Indian Army and served in World War II and Indo-Pakistani War of 1965, Indo-Pakistani War of 1971.

He retired from army in 1978 and later served as Governor of Goa (April 1999 to November 1999) and Punjab (1999 to 2003).

He has written two books- Surrender at Dacca: Birth of a Nation, An Odyssey in War and Peace: An Autobiography Lt Gen. J.F.R. Jacob. He has been awarded Commendation of Merit, Param Vishisht Seva Medal.