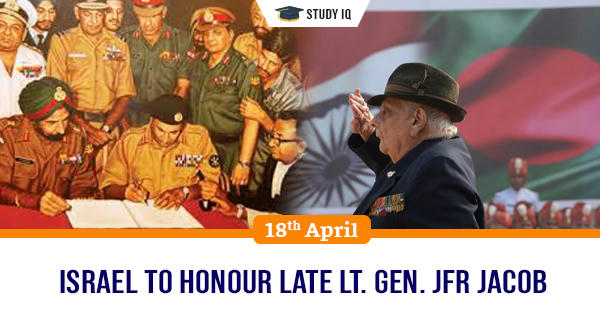 Israel to honour late Lt. Gen. JFR Jacob
Date: 18 April 2019
Tags: Honours & Awards
Israel will honour late J.F.R Jacob, one of Indian heroes of 1971 Liberation War of Bangladesh, as Jewish soldier who served with distinction in a foreign army. He will be honoured by unveiling of wall plaque on Wall of Honour at Jerusalem for soldiers who served with distinction in foreign armies.
Lt. Gen. Jacob is known for negotiating surrender of Pakistani troops in Dhaka in 1972 which ended 13-day war and led to creation of Bangladesh. At that time, he was Major General and Chief of Staff of Kolkata-based Eastern Army Command. He later went on to become Commander-in-Chief of the eastern command.
About Jacob Farj Rafael Jacob
He was born in Calcutta in 1923 to Jewish parents from Iraq. His family had originally come from Iraq and settled in Bengal in the mid-18th century. He died in 2016.
He had joined Indian Army and served in World War II and Indo-Pakistani War of 1965, Indo-Pakistani War of 1971.
He retired from army in 1978 and later served as Governor of Goa (April 1999 to November 1999) and Punjab (1999 to 2003).
He has written two books- Surrender at Dacca: Birth of a Nation, An Odyssey in War and Peace: An Autobiography Lt Gen. J.F.R. Jacob. He has been awarded Commendation of Merit, Param Vishisht Seva Medal.