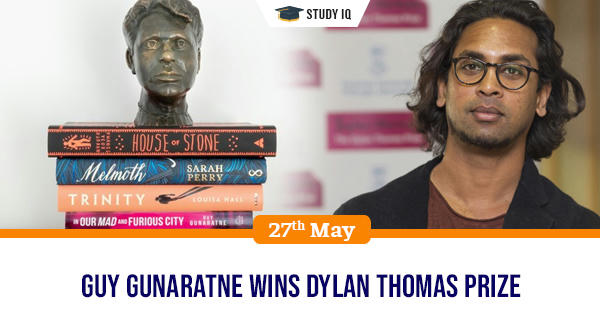 Guy Gunaratne wins Dylan Thomas Prize
Date: 27 May 2019
Tags: Honours & Awards
British-Sri Lankan writer Guy Gunaratne (35) was awarded International Dylan Thomas Prize for his novel' In Our Mad and Furious City'. It his multi-voice debut novel that gives fictional account of 48 hours in a North London housing estate after the murder of a British soldier.
To win this award, he beat the five other shortlisted authors House of Stone by Novuyo Rosa Tshuma (Atlantic), Friday Black by Nana Kwame Adjei-Brenyah (Riverrun), Trinity by Louisa Hall (Ecco), Folk by Zoe Gilbert (Bloomsbury) and Melmoth by Sarah Perry (Serpent's Tail).
Dylan Thomas Prize
It is a leading prize for young writers presented annually. It was established in 2006 and is named in honour of Welsh writer and poet Dylan Thomas. It is open to published writers in English language under age of forty. It brings international prestige to its recipients. It carries remuneration of £30,000.
Entries for it are submitted by publisher, editor, or agent and for theatre plays and screenplays by the producer. It honours its shortlist finalists and annual winner for published work in broad range of literary forms in which Dylan Thomas excelled, including fictional drama, poetry, short story collections, prose, novels, novellas, stage plays and screenplays.