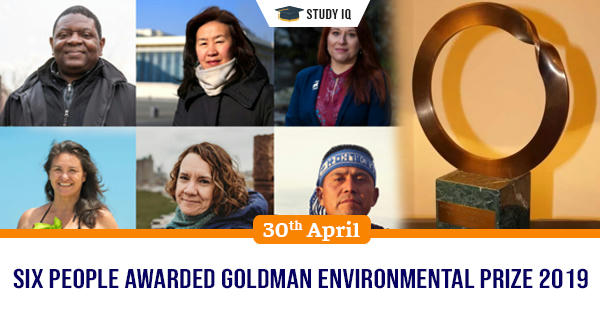 Six people awarded Goldman Environmental Prize 2019
Date: 30 April 2019
Tags: Honours & Awards
Six people from around world were selected for prestigious Goldman prize for grassroots environmental activism for the year 2019. This year it is 30th anniversary of prestigious Goldman Environmental Prize.
2019 Winners are Alfred Brownell (Liberia), Linda Garcia (US), Ana Colovic Lesoska (North Macedonia), Bayarjargal Agvaantseren (Mongolia), Jacqueline Evans (Cook Islands) and Alberto Curamil (Chile).
Goldman Environmental Prize
It is annual award that honous those grassroots environmentalists who risk their lives to protect environment and empower those people who have most to lose from industrial projects. It is also called Green Nobel Prize.

It honours grassroots environmental heroes from world's six inhabited continental regions: Asia, Africa, Europe, North America, South & Central America, and Islands & Island Nations.

It was instituted in 1989 by Philanthropists Richard and Rhoda Goldman. Since then, it is awarded annually by US (San Francisco) based Goldman Environmental Foundation. It carries monetary award of $200,000.

Its winners are selected from nominations made by environmental organisations and others across the world. Generally, the winners are announced every April to coincide with Earth Day (observed on 22 April).

Indians who have won this award are Medha Patkar (1992), M.C. Mehta (1996), Rasheeda Bi and Champaran Shukla (2006), Ramesh Agrawal (2014) and Prafulla Samantara (2017).