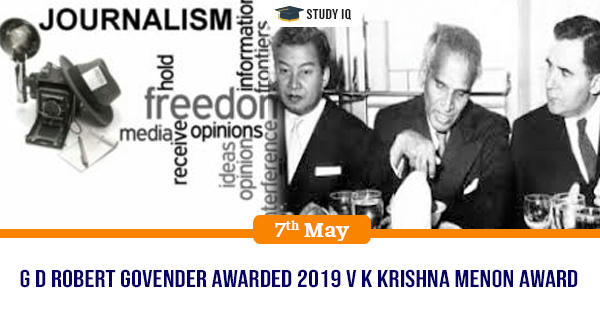 G D Robert Govender awarded 2019 V K Krishna Menon award
Date: 07 May 2019
Tags: Honours & Awards
Late Indian–origin journalist in South Africa G D Robert Govender was awarded prestigious V K Krishna Menon Award 2019 for his contribution as pioneer of decolonised journalism.
He was presented award in United Kingdom on the occasion of 123rd birth anniversary of V K Krishna Menon, Indian diplomat and politician. With this, he became first person to be awarded V K Krishna Menon Award posthumously.
G D Robert Govender
He was born in South Africa in August 1930 and died in London, UK in 2016. In his journalistic career spanning nearly 60 years, he had developed reputation as campaigning journalist and author.
He was also first journalist to call for an international boycott of South Africa's whites-only sports teams. He has written many books in the field of journalism including "The Martyrdom of Patrice Lumumba".
V K Krishna Menon Award
It is given annually by V K Krishna Menon Institute. It is named after Indian diplomat and politician V K Krishna Menon.
V K Krishna Menon
He was India's first High Commissioner to London. He was also Defence Minister of India (in office April 1957 to October 1962). He was described by some as second most powerful man in India after his ally first Prime Minister of India Jawaharlal Nehru. He is noted for his eloquence, brilliance, and forceful, highly abrasive persona. 1957, he set the record for longest speech(8 hours) before UN Security Council (UNSC) while defending India's sovereignty over Kashmir. To date, it is longest ever speech delivered in United Nations. This had earned him widespread popularity and the sobriquet "Hero of Kashmir".