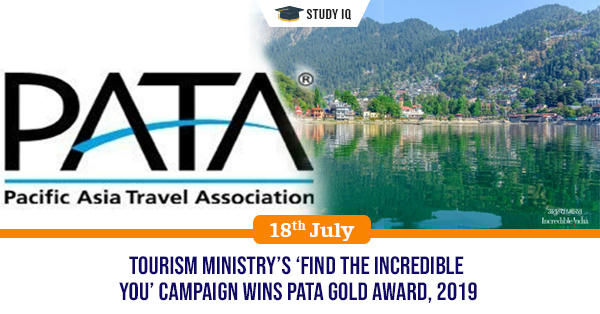 Tourism Ministry's 'Find the Incredible You' campaign wins PATA Gold Award, 2019
Date: 18 July 2019
Tags: Honours & Awards
Union Ministry of Tourism's "Find the Incredible You" campaign has won Pacific Asia Travel Association (PATA) Gold Award 2019. The campaign which focuses on promotion of niche tourism products of the country won award under "Marketing - Primary Government Destination" category.
Find the Incredible You campaign
It was tagline launched as part of 'Incredible India 2.0' Campaign. Under it, series of transformative experiences of foreign through unique storytelling in the format of autobiographies were launched. It had shifted strategy focus from external experience of tourist destinations to internal experience of travelers themselves.
PATA Gold Awards
These awards are given by Pacific Asia Travel Association (PATA) to tourism industry organizations and individuals making outstanding contribution towards successful promotion of travel industry throughout Asia Pacific Region. The winners of PATA awards set industry standards for excellence and innovation and serve as examples for others to follow.
PATA: It is membership association working to promote the responsible development of travel and tourism in the Asia Pacific region.
Background
Union Ministry of Tourism, as part of its promotional initiatives annually releases Global Media Campaigns under 'Incredible India' brand-line in television, print, digital and social Media, in key and potential source markets overseas.
Incredible India 2.0' Campaign
It was launched in September 2017 to take campaigns to the next level. It had shifted from generic promotions undertaken across world to market specific promotional plans and content creation. It had focused on digital and social media and the promotion of niche tourism products of the country. As part of 2.0 Campaign, 5 new television commercials were produced by Tourism Ministry, which were aired globally in the television, digital and social media.
These were: (i) Yoga: "The Yogi of the Racetrack". (ii) Wellness : "The Reincarnation of Mr. and Mrs. Jones". (iii) Luxury : "The Maharani of Manhattan". (iv) Cuisine : "The Masala MasterChef". (v) Wildlife : "The Sanctuary in Paris". These commercials format was based on unique storytelling of autobiographies of travelers, with the tagline "Find the Incredible You".
Achievements: The series of 2.0 films had received very good response and have registered over 153 million views on social media. They were awarded 1st Prize in category of TV Cinema Spot at International Golden City Gate Tourism Awards at Berlin in March 2019.