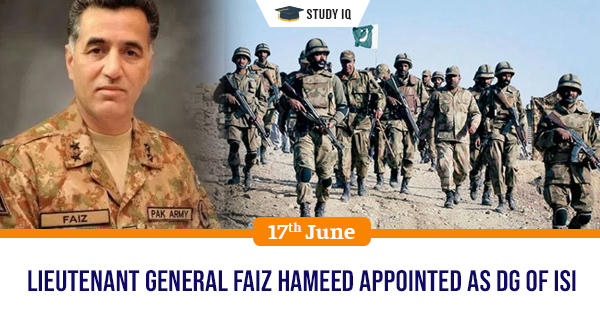 Lieutenant General Faiz Hameed appointed as DG of ISI
Date: 17 June 2019
Tags: Honours & Awards
Lieutenant General Faiz Hameed was appointed as new chief of Pakistan's spy agency- Inter-Services Intelligence (ISI). He will succeed Lt Gen Asim Munir, who was removed from office after serving shortest ever stint of eight months as head of ISI.
Lt Gen Hameed
He is from Pakistan Army's Baloch Regiment. Lt Gen Hameed was promoted as lieutenant general in April 2019 and was appointed as Adjutant General at the General Headquarters (GHQ). He previously had served in ISI as the head of internal security. He is believed to be a close confidant of Army Chief Gen Qamar Bajwa.
About Inter-Services Intelligence (ISI)
It is the premier intelligence agency of Pakistan, operationally responsible for gathering, processing, and analyzing national security information from around the world.

It was established in January 1948. It is headquartered in Aabpara, Islamabad.

It is one of the principal members of Pakistani intelligence community. It reports to the Director-General and is primarily focused on providing intelligence for the Government of Pakistan.

It consists primarily of serving military officers drawn on secondment from three service branches of Pakistan Armed Forces (Army, Navy and Air Force) and hence the name "Inter-Services".

DG of ISI

: He occupies one of the most important posts in Pakistan (Considering army being most influential institution in Pakistan and military having ruled the country for nearly half of its 71-year history since independence from Britain in 1947 and still enjoying extensive powers even under civilian administrations).

Appointment:

It is prerogative of the prime minister of Pakistan. However, the selection and appointment is made by Prime Minister in consultation with the army chief.

Global recognition and fame:

In the 1980s, it had gained global recognition for supportingAfghan Mujahideen against Soviet Union during Soviet–Afghan War in then Afghanistan. During this war, had ISI worked in close coordination with US's Central Intelligence Agency (CIA) to train and fund the Mujahideen with funding from US, Saudi Arabia and Pakistan.

Support to terrorism

: ISI has long been accused of supporting Islamist militants targeting neighbour India as well as sheltering Afghan Taliban and other militants.