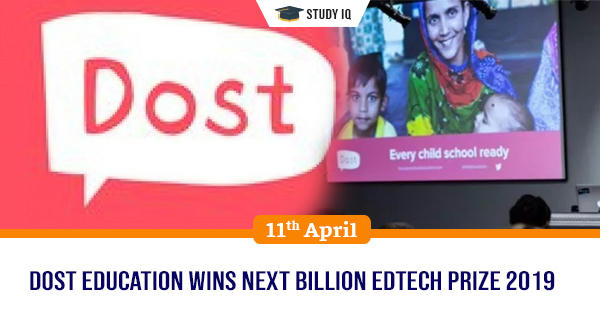 Dost Education wins Next Billion Edtech Prize 2019
Date: 11 April 2019
Tags: Honours & Awards
India's education technology (ed-tech) startup Dost Education has won $25,000 Next Billion Edtech Prize 2019. It shared this edtech prize with two other winners-Bongo (Tanzania) and PraxiLabs (Egypt).
Dost Education
It was awarded for its ability to empower parents to take charge of their child's early education by creating short, user-friendly audio content that is sent to them via their mobile phones.

Its Dost software, audio content, and toolkits make it easy, fun and addictive for parents to boost their child's early development, so low-income families need no longer send their children to primary school behind and without a chance to catch up.
Next Billion Edtech Prize
It is run by UK-based Varkey Foundation. It recognizes the most innovative technology destined to have radical impact on education in low income and emerging world countries. It also seeks highlights technology's potential to tackle societal problems that have proven too difficult for successive generations of politicians to solve.