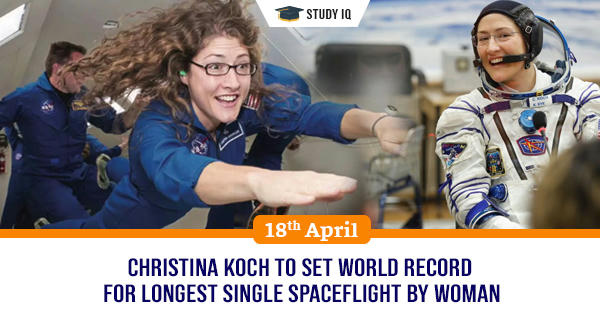 Christina Koch to set world record for longest single spaceflight by woman
Date: 18 April 2019
Tags: Honours & Awards
NASA astronaut Christina Koch is going to set world record for longest single spaceflight by a woman. She will achieve this feat after her mission on International Space Station (ISS) extended to 328 days. She had arrived at ISS on March 14, 2019 and now is scheduled to remain in orbit until February 2020.
Significance
Her extended mission will help scientists gather additional data about effects of long-duration human spaceflight beyond those of normal six-month station expedition. Such research is essential to support future human space missions to Moon and Mars.
Previous Record
With this she will break, current world record set for longest single spaceflight by woman of 288 days set by former NASA astronaut Peggy Whitson in 2016-17. The longest single spaceflight by NASA astronaut is 340 days, set by former NASA astronaut Scott Kelly during his one-year mission in 2015-16.